Berlin says it will scale down business with Beijing and attempt to diversify its trading partners
China has criticized Germany's new strategy on relations with the People's Republic, labelling it "counterproductive," after Berlin declared that it would reduce its reliance on the Chinese economy.
Asked about the strategy document at a press briefing on Friday, Chinese Foreign Ministry spokesman Wang Wenbin suggested the new policy would only harm bilateral ties, saying Beijing prefers to see Berlin as a partner rather than a rival.
"We believe that it is counterproductive to compete and practice protectionism in the name of 'de-risking' and 'reducing dependence,' and to overstretch the concept of security and politicize normal cooperation. Such moves will only generate risks," he said, adding that Germany's approach will "exacerbate the division of the world."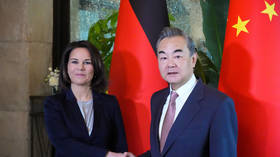 Released by the German Foreign Office on Thursday, the strategy labeled China a "strategic rival" and called for trade with the country to be cut back. The 40-page document accuses Beijing of trying to make other nations "more dependent on China." It notes that Germany relies on China in several areas, including metals and rare-earth elements, medical technology, and pharmaceuticals, as well as information technology and products used to produce semiconductors.
With bilateral trade soaring to a record €300 billion ($337 billion) in 2022, China is currently Germany's largest trading partner. 
Commenting on the strategy, German Chancellor Olaf Scholz said the goal was not to "disconnect" from the Chinese economy, but merely to "avoid critical dependencies in the future." He added that his administration must respond to Beijing's "more offensive stance" in recent years, calling for a "new framework" for relations.
The Chinese Foreign Ministry spokesman went on to state that cooperation with Berlin "far outweighs competition" and voiced hopes that Germany would "adopt a rational and practical China policy." 
Despite stressing its concerns about China, Germany's new strategy also includes plans to boost engagement with Beijing, saying it continues to be an "indispensable partner" on issues ranging from climate change, food security, mitigation, and resolving international economic crises.
You can share this story on social media:
#Beijing #slams #Germanys #China #strategy #World #News