The question came from one of their own, and it presented England captain Ben Stokes with two paths to walk down.
One was to admit to his side's shortcomings in this series — shortcomings that left England needing near-perfect weather across 10 days of cricket in a rain-sodden nation to prevent Ashes failure.
But when asked if going 2-0 down initially at the Ashes was more of a "disappointment" than the fourth Test against Australia being rained out, Stokes violently veered in the other direction.
"No, not really," came the reply, followed by a deadpan and stare and, eventually, a smirk of disdain.
Watch every game of the Major League Cricket Season LIVE on Kayo Sports. New to Kayo? Start your free trial now >
Aussies retain Ashes after rain strikes | 02:32
READ MORE
UK VIEW: 'Timid, scared, petrified': Poms lash Aussies as Ashes go 'down the drain
IT'S COMING HOME: Aussies retain Ashes as rain gives Poms 'tough pill to swallow'
PLAYER RATINGS: Warner struggles again as captain Cummins sinks to horror career low
'HOLLOW FEELING': Aussies' awkward truth as greats' defining moment still looms — TALKING PTS
Whether it was a response drowning in Bazball-forged arrogance is for those who know Stokes as a person to decide.
Either way, it was a dismissive answer to an entirely valid question that England cannot run away from as the dust settles on what is, ultimately, another Ashes defeat.
The defeat might not be literal if England wins at the Oval later this week, but Australia retaining the urn for the fourth-straight series sure isn't winning — and it won't feel like drawing either.
Which brings us to Monday's Ashes topic; feelings. What feels right here? What feels wrong? Who does it feel like won this series? Who does it feel like should have?
And so the debate begins, down a spiral lined with despair, joy, frustration, smugness — the bottom of which inevitably doesn't offer concrete answers, but certainly food for thought.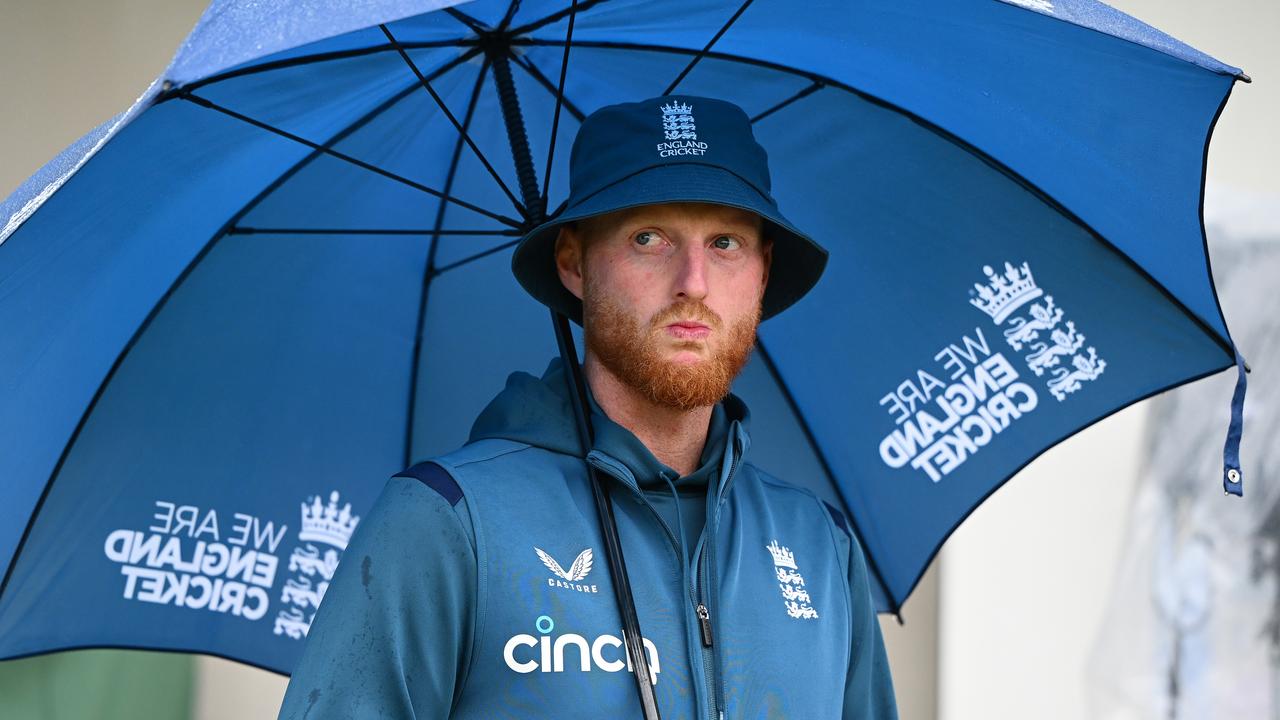 How each nation feels about winning or losing (or drawing) cannot be argued, but those early reactions can be betrayed later after the chance for reflection.
Already, by the time the time this article was first published hours after the fourth Test was abandoned, you could sense that change starting to take shape.
For Australia, the initial reaction was one of smugness. Australia has seen the other side of this coin before, most notably in 2013 when the third Test at the same venue was washed out on day five with England on the ropes. England certainly pulled no punches then.
In a rivalry punctuated by its petulant moments — especially in this series — and the want to inflict mental scars, avoiding defeat with the help of maddening English rain almost felt better than doing it any other way.
But as the initial schadenfreude wears off, a certain hollowness might seep in, as even one of Australia's most one-eyed captains admitted.
"Australia will feel like they have got out of jail this game," Ricky Ponting said on Sky Sports. "There will be a hollow feeling in the changing room."
At Old Trafford four years earlier, there were wild scenes of Australian celebration, and you truly felt that the Ashes were won, no matter what would happen at the Oval (England tied the series 2-2).
Do the Ashes feel won now?
Muted scenes this time around make it harder to feel so, even with a Freudian slip from Pat Cummins in the post play presser, when he hurriedly corrected himself that Australia had not just "won the Ashes".
For England, the initial reaction was one of bitterness, and self-pity.
The Ashes tide had turned in its favour, and the prospect of pulling off the series' greatest comeback was very real.
Even the most hardened Australian fan could surely understand the resentment.
But now comes the time for the initial, kneejerk emotions to come face-to-face with cold, clinical facts — and they have no sympathy for English sorrow.
Winning and losing is only concerned with the latter, which speaks to Australian supremacy this series, regardless of England's late push.
To suggest otherwise is to display a fundamental misunderstanding of what Test cricket is. Test cricket is played with the elements, and tactics are shaped accordingly. When the first ball is delivered, there are no guarantees the last comes with the sun setting five days later, or with a 20th wicket for one team.
Blind ignorance to the fact weather can play a leading role is to fail to play Test cricket as the game exists.
On Monday, much of England will feel beaten by the weather, and not Australia. But that is to criminally undervalue experienced operators like Pat Cummins, Steve Smith, Marnus Labuschagne and Mitch Marsh.
Their influence is worth far more than just dumb luck. It's more accurate to say that England was stifled at Old Trafford by, yes, the weather — but also by Australia's opportunism to use it against their enemy.
England blasting 592 in its first innings was jarring for its explosiveness, but its influence on the entire series has been overstated.
Australia lost the toss in Manchester and was sent in to bat knowing what the grim forecast was, and that a draw was enough to retain the urn.
The visitors then batted the entire opening day and eventually posted 317. That's nothing to scoff at, and it was enough to put England up against it early — a point that has seemingly been lost.
England admittedly then blitzed Australia's bowlers, seeking to only bat once, while it swiftly made inroads into the middle-order in the second innings.
At 4-108, Australia was ripe for the picking — if only England's bowlers could continue the dominance in the overs available on day four.
That's when Labuschagne, who had been battling his own demons this series, dug deep to make a crucial century and frustrate England further.
So, too, did Mitch Marsh's Test rebirth, which became even more impressive when he critically survived 107 balls to protect the Australian lower-order, and push his side closer to a draw.
Only 30 overs were possible on day four, and Australia had played them expertly. When combined with Australia's first innings display, more than enough was done to earn a draw.
They've certainly been earnt for far less.
Australia had been criticised at Old Trafford for curious tactics, and lacking ruthlessness while trying to crawl over the line without Nathan Lyon.
We often define ruthlessness in cricket by fiery spells of fast bowling, power-hitting, clinical fielding, and tactical nous. But isn't doing just enough with the bat, all at the right times to prevent defeat, being ruthless, too?
England wouldn't be feeling the way it is this morning if it wasn't.
The fact is Australia has dominated England for longer than it has been dominated, outplaying the hosts in the first two Tests, while playing the circumstances just well enough to avoid defeat in the fourth.
Just like in 2019, Australia has done enough to retain the urn, even if it feels a little different.
"The Ashes are ours on merit and we shouldn't spend the day apologising for it," veteran sport broadcaster Gerard Whateley said on SEN.
"In defeat they have claimed to be moral victors … They have whinged relentlessly."
Meanwhile, former England captain Michael Vaughan said Australia had pulled off one of the "luckiest escapes" he can remember, but there could be "no complaints" about the Ashes being retained.
"(England) will have to reflect that it is a case of many little things adding up and leading to Australia retaining the urn," Vaughan wrote in The Telegraph.
"You can look at so many moments across the first two Tests. The dropped chances, especially from Jonny Bairstow. The way they batted in that crazy hour at Lord's against the short ball, that gifted Australia control when Nathan Lyon was injured. Should Josh Tongue have played more, and Jimmy Anderson a bit less? Did they perform inaccurately in the first two Tests because of their preparation?"
These are all things Stokes might've reflected on in defeat instead of offering a blunt, three-word answer that showed a lack of English accountability.
But it might've just peeled the lid back on a growing sense of righteousness that Bazball has created, too.
Marnus and rain keep England at bay | 03:18
English cricket under Stokes and Brendon McCullum is said to be more about entertaining, and good vibes than anything else. More specifically, "it's about bucket hats and enjoying it," Stuart Broad said before the series.
And so when the Manchester rain condemned England to failure — in sport's more traditional sense, anyway — it's little surprise that Stokes zeroed in on where his side did excel over its rival.
"There was potentially the opportunity for a team to play it safe but we didn't do that," he said in arguably pointed post-match remarks. "We didn't shy away from what we needed to do. We always put our front foot forward and as captain I am proud.
"I think we have become a team people will remember. Regardless of how the series ends up, people will always talk about us."
Will Australia feel guilty that it obsessed over that boring, old concept of 'winning' in this series instead?
If it does, perhaps the Ashes urn will give its players some comfort.
#Ben #Stokes #answer #proves #Bazball #lost #reality