A BBC reporter pressed the captain of the women's squad to 'out' her teammates
The BBC has apologized after one of its reporters questioned the captain of the Moroccan women's football team about gay rights in her country and asked her whether she had "any gay players" in her squad.
"In Morocco it's illegal to have a gay relationship," a BBC World Service reporter said to Moroccan captain Ghizlane Chebbak during a press conference before her team's Women's World Cup clash with Germany on Monday. "Do you have any gay players in your squad, and what's life like for them in Morocco?" he asked.
Chebbak did not answer, removing her earpiece and turning to her coach, Reynald Pedros, for guidance. A FIFA official interjected, calling the BBC's question "very political" and asking that the conversation be kept to sport.
"No, it's not political, it's about people," the journalist pressed. "Please let her answer the question." Chebbak shook her head and refused to comment.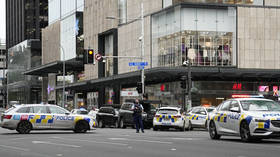 The BBC's line of questioning was condemned by other journalists. "The reporter was completely out of line," sports writer Shireen Ahmed, who was at the press conference, tweeted on Monday. "This isn't an issue of journalistic freedom. You can inquire about social laws in different places without endangering people." 
The British broadcaster issued an apology on Tuesday. "We recognise that the question was inappropriate," said a spokesperson for the network. "We had no intention to cause any harm or distress."
"Lewd or unnatural acts with an individual of the same sex" are illegal in Morocco, and can be punished with a fine of $122 or a prison sentence of up to three years. Same-sex relationships are not recognized, and the government permits one gay rights organization to operate, albeit discreetly. Muslims make up 99% of the Moroccan population, and the country's laws on homosexuality are derived from traditional Islamic morality.
Monday's press briefing was not the first LGBTQ-related controversy to strike during this year's tournament in Australia and New Zealand. Saudi Arabia's state tourism board was set to sponsor the competition, but FIFA terminated the deal in March due to an outcry from LGBTQ campaigners over the Islamic kingdom's restrictions on women's rights and prohibition of homosexuality.
You can share this story on social media:
#British #state #Moroccan #footballers #lesbians #World #News