A British tourist has told how he escaped a "scene from Dante's Inferno" thanks to a helicopter dowsing a path through a wildfire.
Duncan Kemp was waiting for evacuation coaches to arrive at Lindian Village hotel, in Rhodes Bay, when the fire "jumped the road and began to burn in front of reception".
There were "uncontrollable scenes as people scrambled to get on coaches – kids screaming and crying and parents much the same," he told Sky News.
Second heatwave to bring more extreme weather – follow live updates
One of the numerous helicopters tackling more than 80 fires across Greece dropped water on the wildfire to create a safe path out, he said.
But there were not enough spaces on the coaches.
Instead, the hotel's "brave" staff took Mr Kemp and other travellers in their own cars to safety.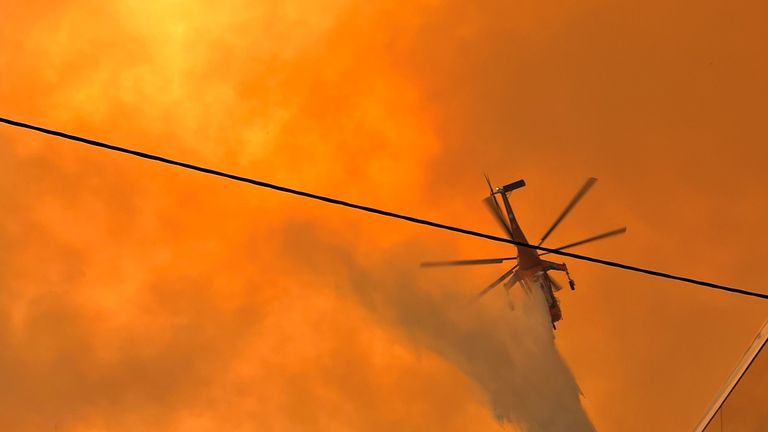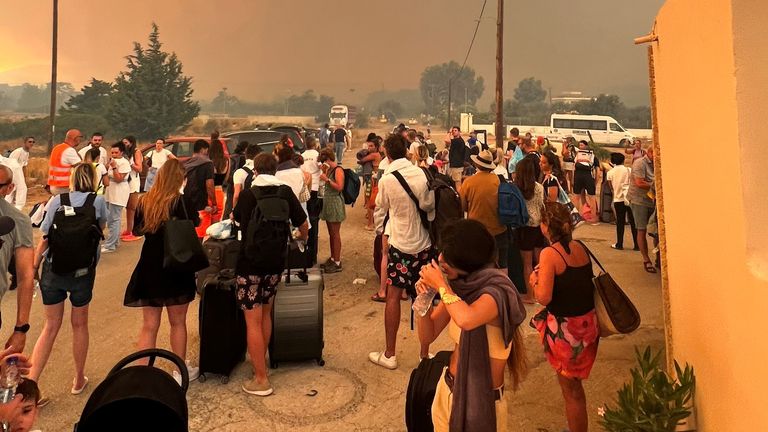 Describing the approaching wildfire, Mr Kemp said: "In scenes not out of place in Dante's Inferno, the sky turned dark, the sun was blotted out and turned blood red, and it became obvious that something was not right."
He continued: "We just want to get home now. We feel that we have been left to our own devices with no help. Don't know whether our luggage will find us but just want to get away from this chaos."
Mr Kemp has spoken as Foreign Office minister Andrew Mitchell said up to 10,000 British tourists are on Rhodes as wildfires sweep across parts of the island.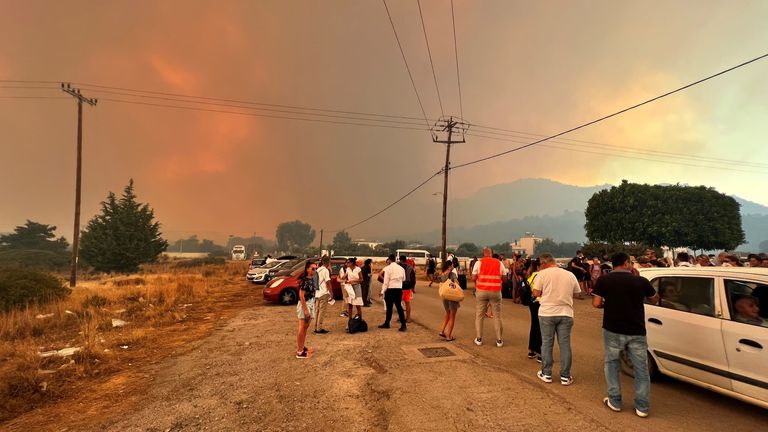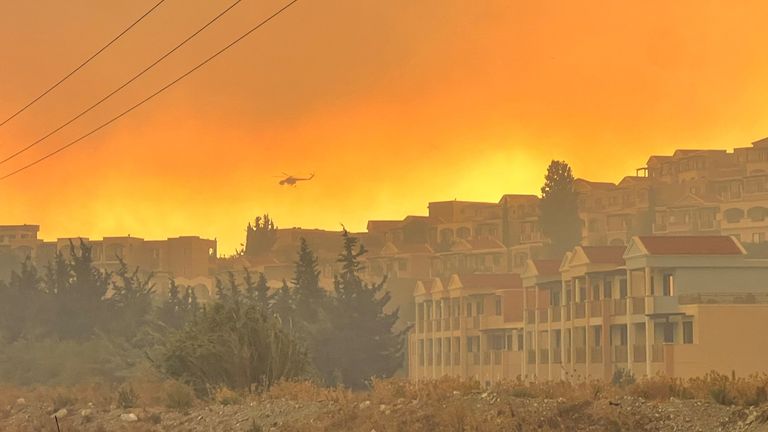 Read more:
Flights to evacuate hundreds of Britons from Rhodes
What rights do holidaymakers have?
How the heatwave will impact your holiday
Mr Mitchell made the remarks as travel firm Tui said it had returned some holidaymakers to the UK from Rhodes on "three dedicated flights".
More repatriation flights are due to arrive back in the UK on Monday as parts of efforts to get hundreds of stranded British holidaymakers off the island.
It comes as sea evacuations have begun from a beach in Corfu to transport individuals fleeing wildfires on the Greek island.
The evacuation involved six coast guard vessels and nine private vessels, with around 59 people evacuated from Nissaki beach on the northwest coast, the coast guard said.
#British #tourist #escapes #scene #Dantes #inferno #helicopter #dowses #path #Rhodes #wildfire #News