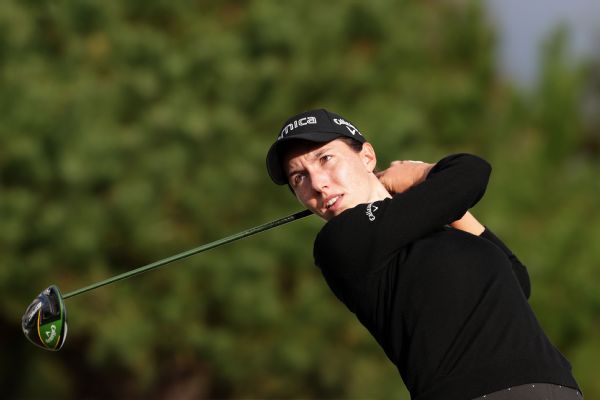 Carlota Ciganda was disqualified from the Evian Championship on Friday after arguing a slow-play penalty and refusing to sign her scorecard.
Ciganda, 33, lost her appeal of the 2-stroke penalty incurred on her final hole of the second round in Evian-les-Bains, France.
She carded a 1-over 72 but left the scoring tent without signing her card, prompting the disqualification.
The 2-stroke penalty would have moved her to 6 over for the tournament, outside of the cut line at 4 over.
Ciganda had been playing in a group with Anna Nordqvist and Celine Herbin in Friday's difficult, windy conditions. By the time the group reached No. 7 after starting on the back nine, they received a warning for being out of position.
An LPGA spokesperson said after failing to pick up the pace at No. 7, the group was timed starting at No. 8.
"Ciganda was allowed an appeal with the advance and lead rules officials before returning her scorecard, which was heard and denied," the spokesperson said in a statement, according to Golf Digest. "Therefore, a two-stroke penalty was upheld. Ciganda opted not to add the two-stroke penalty to her signed scorecard. She was told that leaving the official recording area with a signed score lower (without the penalty strokes) would lead to disqualification, and left on her own accord."
Ciganda entered the Evian Championship in good form, having finished in the top 25 in each of her previous five starts. That included a third-place finish at the KPMG Women's PGA Championship last month. She also tied for third at last year's Evian Championship.
#Carlota #Ciganda #Evian #penalty #scorecard #dispute