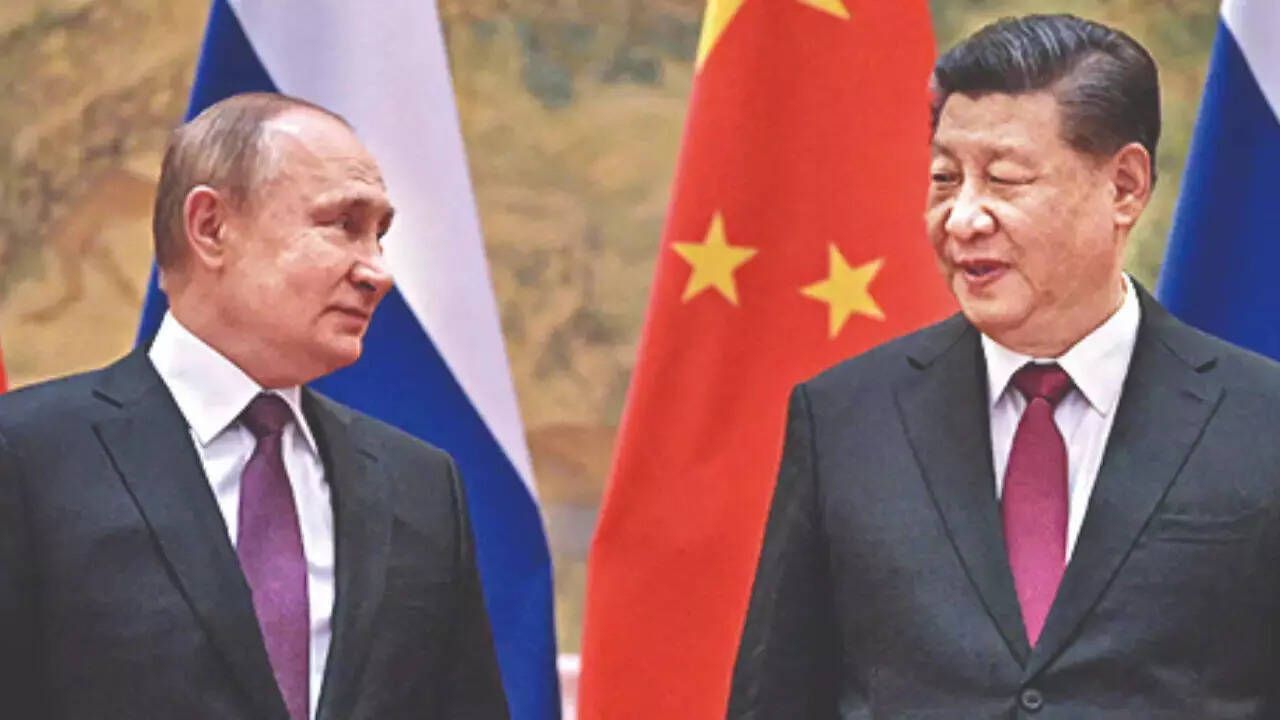 WASHINGTON DC (US): China is providing technology and equipment to Russia, which is engaged in war with Ukraine, according to a report from the Office of the Director of National Intelligence, United States.
The report titled, "Support Provided by the People's Republic of China to Russia," said that China has become the most important trading partner of Russia after trade with Western countries plunged in 2022.
"The customs records show PRC state-owned defence companies shipping navigation equipment, jamming technology, and fighter-jet parts to sanctioned Russian Government-owned defence companies," the report read.
"Russia has continued to acquire chips through circuitous routes, with a large portion flowing through small traders in Hong Kong and mainland PRC, according to the foreign press," it further added.
China's buying has been spurred by steep discounts on oil and is providing Moscow much-needed revenue particularly after the Group of Seven (G-7) imposed a USD 60 price cap on Russian crude in December
2022, it said.
The report was mandated by the Intelligence Authorization Act for Fiscal Year 2023, passed by Congress, and was released by House Intelligence Committee Democrats. According to the report, Russian imports from China have increased by 13 per cent to $76 billion in 2022, and its exports to the PRC increased by 43 per cent to $114 billion. Total bilateral trade between the PRC and Russia hit a record high level of $190 billion in 2022, which is a 30 per cent increase from 2021.
China is also providing supertankers and insurance coverage to move Russian Urals crude to PRC ports, as Moscow seeks vessels for exports after a G-7 oil price cap restricted the use of Western cargo services and insurance.
It is difficult to ascertain the extent to which the PRC has helped Russia evade and circumvent sanctions and export controls. Russia has turned to the PRC for critical components, according to PRC firms involved in the shipments, which has provided some measure of protection against the adverse effects of sanctions and export controls, the report read.
Earlier, US President Joe Biden-led administration has repeatedly raised concerns with China over its companies selling non-lethal equipment to Russia for use in Ukraine, but US officials say they have seen no signs so far that China has provided weapons or lethal military aid to Russia, as per CNN.
The US believes that at the outset of the war, China intended to sell Russia lethal weapons for use in Ukraine, a US official previously told CNN. But China significantly scaled back on those plans as the war progressed, this person said — something the Biden administration has considered a victory.
However, China has claimed neutrality over the war in Ukraine and called for peace in the conflict. But Beijing has also avoided publicly criticizing Russia's war efforts and the two countries have repeatedly emphasized their cooperation, with Russian President Vladimir Putin and Chinese defense minister Li Shangfu declaring a "boundless" military partnership after a meeting in April.

#China #providing #technology #equipment #Russia #intel #report