Daniel Ricciardo has long been one of Formula 1's most popular drivers and some of his fans now firmly believe there are indications he will soon be back with Red Bull's top team.
Ricciardo left Red Bull in fairly acrimonious circumstances back in 2018, with team principal Christian Horner stating his belief the Australian never should have left.
He is now back in the fold with secondary Red Bull outfit AlphaTauri and the response he received for his return race in Hungary on Sunday has fans dreaming of another pairing with reigning world champion, Max Verstappen.
Watch the Formula 1 Belgian Grand Prix 2023 Live and ad-break free in racing on Kayo Sports Sunday July 30 11:00PM AEST. New to Kayo? Start your free trial now >
Prior to the race getting underway, Red Bull supremo Helmut Marko, Horner, AlphaTauri team principal Franz Tost and Ricciardo's trainer Pyry Salmela all made sure to wish him luck on the starting grid.
The notoriously frosty Marko seemed to have a big smile on his face, which was replicated by Horner, who appeared to be giving Ricciardo the biggest "good luck" message imaginable.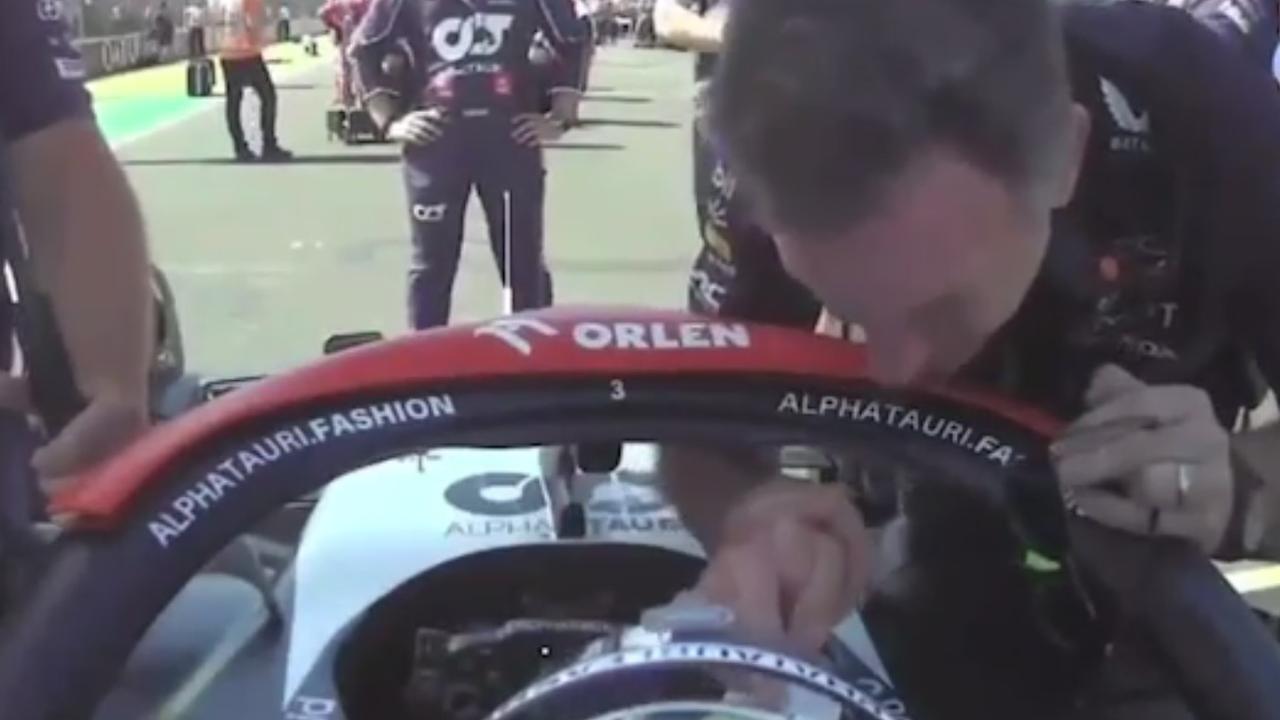 It quickly led to fans gushing about Ricciardo's prospects of replacing Sergio Perez alongside Verstappen in 2024.
One fan wrote on Reddit: "Lmao they want him in that RB so bad they don't even hide it. Proper favourite child behaviour."
"Daniel Ricciardo in rb (Red Bull) 2024 confirmed," wrote one Twitter user in response to the viral pre-race video.
"RIP Perez in the second seat," wrote another.
"Wow. He's back in the RB next year," was another tweet.
Ricciardo's return to the grid had already got off to a great start when he comfortably out-drove teammate Yuki Tsunoda throughout practice and qualifying.
In an AT04 car that has struggled all season long, Ricciardo qualified 13th, with Tsunoda down in 17th.
In the race itself, Ricciardo was bumped heading towards the first turn and ended up last out of the 18 drivers remaining in the race.
But Ricciardo fought back to regain 13th by the finish, two spots ahead of Tsunoda.
While there was plenty of controversy over the team's decision to axe rookie Nyck de Vries for Ricciardo, Marko said after the race the Aussie's drive had already been proven it was the right call.
"It was a very confident and mature performance," Marko told Sky Sports Germany.
"He lost three or four places because of the collision after the start. Thirteenth place is fine.
"But it's also the positive momentum he brought to the team and a stabilisation of the technical statements and changes – the driver change has worked out perfectly."
Of course this is all just speculation and Perez responded brilliantly, reversing his poor recent form with a superb drive to finish third in Budapest.
"Rip Ricciardo," wrote one Twitter user. "Never in RB again, Checo (Perez) way better."
It's all part of the juicy speculation and conjecture that will continue until drivers are confirmed for the 2024 campaign.
#Daniel #Ricciardos #handshake #Red #Bulls #Christian #Horner #Helmut #Marko #Hungarian #Grand #Prix