Trevor Reed, who was freed in a prisoner swap last year, has reportedly been wounded while fighting for Kiev
Trevor Reed, the former US Marine who was jailed in Russia for assaulting police officers and released last year in a prisoner swap with Washington, has reportedly been injured while fighting as a foreign mercenary for Ukraine.
Reed was transported to a hospital in Kiev after being wounded and was evacuated to Germany for medical treatment, CNN reported on Tuesday, citing an unidentified person familiar with the matter. "The circumstances around Reed's injury in combat were not immediately clear," the outlet said, adding that a spokesman for Reed's family declined to comment.
An estimated 11,675 foreign volunteers have fought against Russian forces since the Ukraine crisis began in February 2022, according to the Russian Defense Ministry. About 900 of the mercenaries are US citizens. Most of the foreign fighters have fled the country or been killed, leaving only about 2,000 still fighting in the former Soviet republic, the ministry said earlier this month.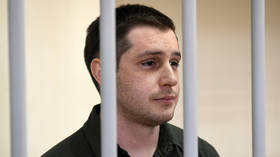 Reed, a native of Fort Worth, Texas, who was then 29 years old, was arrested in August 2019 for being drunk and disorderly in public. He was found guilty of assaulting two officers, endangering their lives, while in a police car. Reed reportedly grabbed the arm of an officer while he was being taken in, causing the car to swerve. He was sentenced to nine years in prison in 2020.
"Your guy, the Marine – he's just a drunk and a troublemaker," Russian President Vladimir Putin told NBC News in a 2021 interview. "As they say here, he got himself s—faced and started a fight. Among other things, he, he hit a cop."
Reed was set free in an April 2022 prisoner swap for Konstantin Yaroshenko, a Russian pilot who had been serving a 20-year sentence in Connecticut after being arrested in Liberia for allegedly conspiring to smuggle cocaine into the US.
The ex-Marine reportedly went on hunger strikes while in Russian custody and claimed to have been injured. Reed told ABC News after his release that his weight dropped to 131 pounds from 175 pounds and that he was coughing up blood during his incarceration. He was a college student and was visiting his Russian girlfriend in Moscow at the time of his arrest.
READ MORE:
Zelensky's 'cannon fodder': The strange lives and pointless deaths of foreign mercenaries fighting in Ukraine
#ExUS #Marine #released #Russia #injured #Ukraine #CNN #World #News