I'm standing watching a helicopter scoop water out of the Ionian Sea and dump it onto flames being blown down the steep slopes of northeast Corfu towards a school and villas below.
Its bucket can carry several tonnes of water and while it might protect the buildings for now, force 7 winds forecast soon are likely to give the fire the upper hand.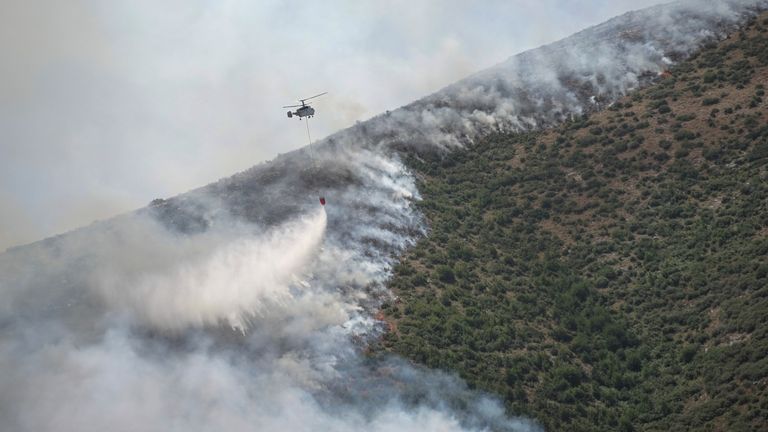 Watching with me is the local deputy mayor for tourism Haris Yiotis. He's worried that if the fires aren't out by then homes and crucial infrastructure on the island will be lost.
"I'm 60 years old," he tells me, "I've never seen a fire such as this.
"I will class it as the fire of the century for Corfu."
As if to drive that point home, a little way up the road 100-year-old olive trees are burning from the inside.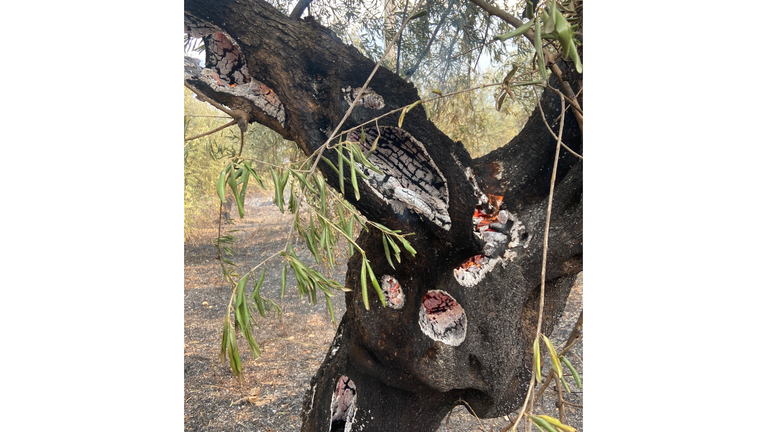 The heat is so great I can only get within a few metres.
The air is thick with the smell of smoke, and wood fire dampened by aerial bombardment with water.
While wildfires aren't caused by climate change, the extremes of heat that are, make events like this more likely.
What might have once been a rare heatwave in southern Europe, is now, according to the latest analysis by World Weather Attribution, likely to occur every decade.
Deputy mayor Yiotis is concerned about what climate change means for Corfu and other Greek Islands.
Their climate is becoming "more like Dubai" in decades to come.
He's surprised but encouraged by young people on Corfu who have volunteered to staff roadblocks and ferry water to firefighters.
The same young people who will have to figure out how their island will adapt to more frequent extremes.
Average temperatures in Greece are edging gradually upwards – as they are pretty much everywhere else – and pushing out the extremes of weather too.
Read more:
Two dead as plane fighting Greece wildfires crashes
Scientists warn deadly extreme heat 'rapidly on the rise'
A 'human hand' contributing to the fires?
But not everyone here accepts the changing climate is really responsible for the situation.
Vasilis Sofitsis, who runs a pool and garden firm on the island, points out arsonists are suspected of starting these fires.
"There's a human hand in this," he tells me.
There are just too many fire fronts in too many different places, he argues, to have occurred by accident.
And he may be right.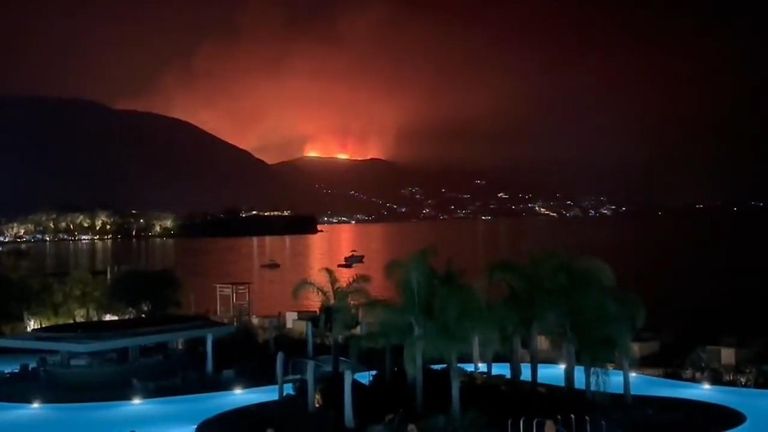 But no one is arguing climate change starts fires. Just that it can turbo-charge heatwaves that create the conditions that favour them.
And as a TV reporter, I have to be honest that the fires burning across Europe are the type of disaster that's easily captured on TV news. Emblematic of climate extremes, but their causes more complicated than that.
But should we treat wildfires just as weather events, and risk losing sight of the less visible, insidious climatic shifts going on around the world?
And even with our rapidly changing climate, weather will still fluctuate.
Heatwaves and the impacts they have will come and go.
But the point here is, they're going to keep coming more often, and going more slowly, unless we do something about it.
#Fire #century #Corfu #locals #suspect #arsonists #blazes #Greek #island #Climate #News