Jordan Henderson's new Saudi Arabian football club has turned part of a colour photograph black and white – ensuring his rainbow armband cannot be seen.
A burst of images of Henderson playing for Liverpool feature on a video from Al-Ettifaq FC to announce his signing.
One features Henderson in a match in December 2020 when – as part of the Premier League's LGBTQ solidarity weekend – he wore a rainbow-coloured captain's armband.
Read more:
'Stand by your words': LGBT+ fans criticise Henderson move to Saudi side
Kylian Mbappe 'refuses to discuss' world record £257m move to Saudi Arabia's Al Hilal
While most of the photo remains in full colour, the small section featuring the armband has been turned black and white by Al-Ettifaq.
Text placed over the video reads: "Captain who sets an example in every training session and every match."
Sky News has found the original image, confirming it originally featured the rainbow armband.
The obscuring of the armband's LGBTQ messaging highlights how such rainbow armbands would be frowned on in Saudi Arabia, where same-sex relations are illegal.
The anti-LGBTQ laws in the kingdom are one reason why Henderson's transfer has drawn criticism from Liverpool fans.
Rights activists denounce Saudi Arabia as a repressive regime where freedoms are supressed and full equality is far from being guaranteed for women.
Having shown solidarity with the LGBTQ community during 12 years at Anfield, the 33-year-old has accepted a lucrative transfer to a state-funded football project in a country with repressive laws.
LGBT+ fans' group Kop Outs said Henderson had been "tarnished".
"He was portraying himself as aligned with respect for women and LGBT+ rights," said Kop Outs founder Paul Amann.
"That has been severely tarnished by looking to jump ship to a regime that has none of those values at its core.
"And it leaves us questioning the authenticity of any of his former commitments. That tarnishes him entirely as a person but not as a player."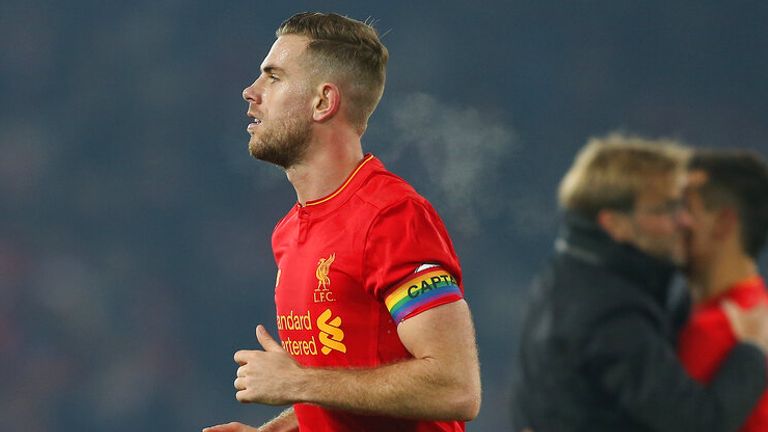 The Liverpool Supporters' Board said: "We know he did much to promote inclusion on and off the pitch. He stood out as a principled footballer.
"We are therefore very disappointed and disheartened by his decision and the hurt and division it has created."
Al-Ettifaq is managed by Henderson's former Liverpool captain, Steven Gerrard.
The 33-year-old initially rebuffed the approach but it seems it was too lucrative to turn down, with reports he will triple his current £200,000 a week salary.
#Jordan #Hendersons #Saudi #Arabian #club #turns #rainbow #armband #photo #black #white #World #News