The message was reportedly relayed by Russian Defense Minister Sergey Shoigu during his visit to North Korea
Russia's defense minister presented North Korean leader Kim Jong-un with a "warm letter" from President Vladimir Putin during a meeting in Pyongyang, the Korean Central News Agency (KCNA) said on Thursday. 
While hosting a meeting with Sergey Shoigu, Kim asked him to thank Putin for his "warm and good letter," the state-run KCNA said.
The Russian defense chief has made a surprise trip to North Korea to participate in the 70th anniversary of the end of the 1950-1953 Korean War. Kim and Shoigu discussed the "further developing [of] strategic and traditional DPRK-Russia relations," according to the agency.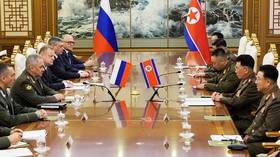 Shoigu toured a military exhibition held by North Korea's Defense Ministry, where he saw "new-type weapons and equipment" produced by the country's arms industry, according to KCNA.
During a meeting with his North Korean counterpart, Kang Sun-nam, Shoigu hailed the "rich history of cooperation" between Moscow and Pyongyang, adding that regular military exchanges had helped to "maintain peace and stability on the Korean Peninsula."
The two states have enjoyed close ties since the Soviet era. Last year, Pyongyang's foreign ministry declared that bilateral relations had reached "new strategic heights," despite what it called "hegemonic actions of the United States and its satellites."
North Korea has also refused to follow a US-led sanctions campaign targeting Moscow in retaliation for the conflict in Ukraine, voicing strong support for Russia's ongoing military operation. However, the DPRK has also rejected American claims that it has supplied weapons to Russian troops as "groundless" rumors intended to "tarnish the image of the DPRK."
Shoigu's rare visit to North Korea coincided with a trip by a Chinese delegation led by senior diplomat Li Hongzhong, who also traveled to Pyongyang for high-level contacts. Commenting on the meetings, the US State Department voiced hopes the Russian and Chinese officials would encourage the DPRK to "refrain from threatening unlawful behavior" and help to diffuse tensions on the Korean Peninsula.
#Kim #Jongun #receives #warm #letter #Putin #Pyongyang #World #News