Footballer Kylian Mbappe has refused to meet the Saudi Arabian club that has made a world record £257m bid for him, French media has said.
The Frenchman's current club, Paris St Germain (PSG), have given Al Hilal permission to speak to the player after accepting its mega-offer on Saturday.
But Mbappe, 24, would not meet Al Hilal officials in Paris this week, French sports daily, L'Equipe said on Wednesday.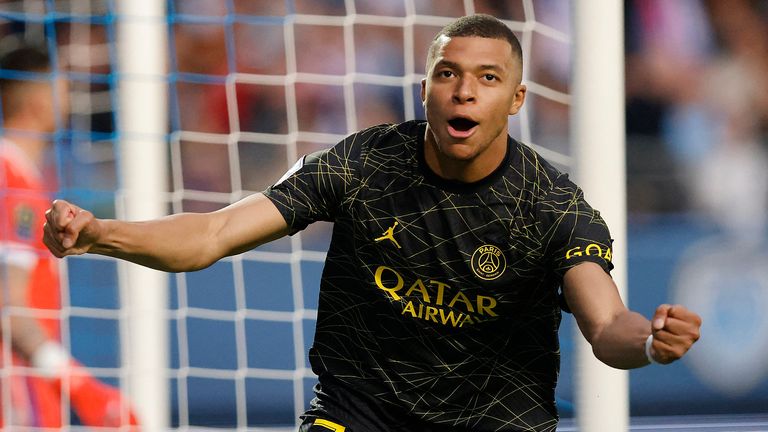 PSG want to cash in on the World Cup winner this summer rather than let him walk for free a year from now when his contract expires, when he is is widely expected to join Real Madrid.
Relations between Mbappe and PSG have been tense since the French forward said last month he turned down PSG's offer of a 12-month extension.
Al Hilal made a record 300 million euro (£257m) bid for Mbappé on Monday after missing out on another of the game's biggest names, Lionel Messi, who joined Inter Miami after two years at PSG.
Analysis:
'Stand by your words': LGBT+ fans criticise Henderson move to Saudi side
Al Hilal's offer was subject to the agreement of a payment schedule and depended on contracts being signed between the clubs and between Mbappe and Al Hilal.
PSG believe at least five clubs , including Manchester United, Chelsea and Tottenham are interested in signing Mbappe, Sky Sports said.
PSG President Nasser al Khelaifi has said they will not let him go for free.
Read more on Sky News:
Former PSG star Messi scores on Inter Miami debut
Premier League leads European financial dominance
Cristiano Ronaldo revealed as 'highest paid athlete'
The French captain is unlikely to play for PSG again unless he agrees to extend his contract but it is reported the Parisian club believe he has already agreed terms to join Real.
Mbappe reportedly cost more than £150m when he signed from Monaco six years ago, initially on a season-long loan deal, which was later made permanent.
Some reports state he earns as much as £2m a week at PSG and would be in line for even more money if a deal with his current club is agreed.
Even that is nothing compared to the eye-watering amounts Al Hilal have reportedly offered to pay him if he agrees to move to the Middle East.
The burgeoning Saudi Pro league, bankrolled by the oil-rich nation's government, has already snapped up one global superstar in Cristiano Ronaldo and the number of players heading there is growing by the week.
Liverpool midfielder Jordan Henderson and Brazilian forward Malcolm are among the latest star names to make the switch.
#Kylian #Mbappe #refuses #discuss #world #record #257m #move #Saudi #Arabias #Hilal #World #News