A reporter's question has been decried as "out of line" and "unethical" during a press conference leading into a Women's World Cup clash between Germany and Morocco.
With Moroccan captain Ghizlane Chebbak facing media ahead of the North African nation's historic World Cup debut, one reporter from the BBC World Service asked whether there were gay players in the Moroccan squad.
Stream Over 50 Sports Live & On-Demand with Kayo. New to Kayo? Start your free trial now >
"We know that gay marriage is illegal (in Morocco), are there any gay players in the team, and what is it like for them," the reporter asked.
It came after another question about defender Nouhaila Benzina, who will become the first player to wear a hijab at a senior women's football tournament, being brushed off by Chebbak.
Women's football has historically acted as a safe haven for LGBTQ+ communities and openly embraced queer players in a way that is unique from many male professional codes, but homosexuality remains illegal in Morocco, punishable by up to three to five years imprisonment and a fine of 1,200 dirhams ($184 AUD).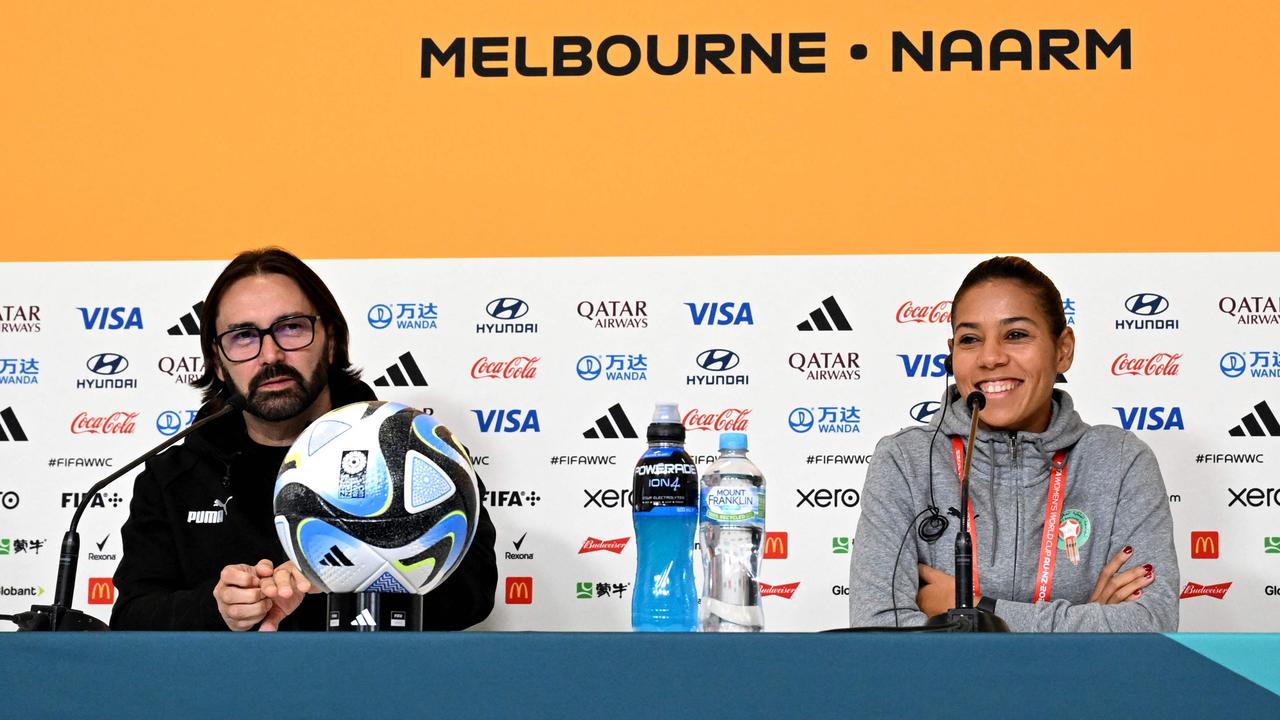 The question was shut down by a FIFA moderator, reminding media that they were not there to discuss politics, but The Athletic's Steph Yang said that Moroccan media were "audibly dismayed" at the question.
Yang slammed the question on social media afterwards, saying that while it was "vital" to talk about the intersection of sport and politics, "we should take care that our questions don't cause further harm to those impact by those very politics."
"From a harm reduction perspective, this is not an appropriate question for a player and would have endangered the players themselves," Yang wrote.
Tasmanian journalist Molly Appleton said the question demonstrated "why you need diversity in journalism".
"This is your answer," she said.
"So unethical, harmful questions like this aren't asked."
CBC Sports' Shireen Ahmed said the reporter was "completely out of line".
"Harm reduction matters and posing the question to the captain or coach was unnecessary," Ahmed said.
"Asking a player about her teammates and whether they are gay and how it affects them when you know it is not permissible is bizarre and out of line. The captain cannot out players nor comment on policy because it could be dangerous for them too.
"The question reeks of privilege from a journo who should know better.
"Journalists have an obligation to be fair, accurate and practice with care. If reporting harms someone, it is not only unethical but dangerous."
ESPN's Marissa Lordanic said: "genuinely astounding that this needs to be explained, but please don't ask players questions that will directly put themselves in harm's way."
Chebbak would go on to focus on the historic fixture against Germany, saying that the Atlas Lionesses were "not here just to make up the numbers, but to compete."
"We are honoured to be the first Arab country to take part in the Women's World Cup," Chebbak said.
"We feel that we have to shoulder a big responsibility to show a good image, and to show the achievements that the Moroccan football team has made in terms of progress by qualifying to the World Cup.
"This is a great milestone for us and we hope that our match with Germany tomorrow will pave the way for other matches."
Morocco's debut at this World Cup marks a major milestone, having made the Women's Africa Cup of Nations (WAFCON) final last year in front of over 50,000 fans after a penalty shootout win over Nigeria, having only been formed in their current guise in 2017.
Having gone from no national competition made up of players mostly from a single club almost two decades after the team's inception in 1997, to becoming the first nation in the world in 2019 to have two divisions of professional women's football, the rise of Moroccan women's football has been rapid.
The women's team comes to Australia as football icons on the same level as the men, who sensationally made the semi-finals of the men's World Cup late last year after upset wins over powerhouses Belgium, Spain and Portugal.
Benzina will extend her status as an icon across the Muslim world when she steps out against Germany on July 24, and Chebbak, the daughter of a former African men's champion, can expect to be mobbed by travelling fans.
Morocco play Germany in their first group stage game at 6.30pm AEST on July 24 in Melbourne, before playing South Korea and Colombia.
#Morocco #press #conference #cut #short #reporters #political #question