Twitter may discard its iconic bird logo as soon as Monday in favor of one reflecting the new X Corp brand, the platform's CEO Elon Musk announced on Sunday. 
"And soon we shall bid adieu to the twitter brand and, gradually, all the birds," Musk tweeted on Sunday, clarifying that: "If a good enough X logo is posted tonight, we'll make go live [sic] worldwide tomorrow." 
He confirmed the plan in a Twitter Spaces audio chat, arguing the logo change "should have been done a long time ago."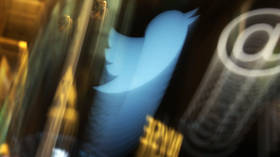 It's not clear if Musk actually has an idea in mind for the X Corp logo or if he genuinely expects ordinary Twitter users to donate their labor in creating one. Thousands had offered up potential candidates as of Sunday afternoon, many incorporating the Twitter bird in some way, though others questioned the wisdom of the move given that Twitter's own website acknowledges that its logo is "our most recognizable asset." 
Twitter merged with Musk's X Corp in April, ceasing to exist as a company on paper even as Musk continued to use the Twitter name and bird logo. 
The billionaire has explained that he purchased Twitter with the goal of turning it into an "everything app" along the lines of China's WeChat within three to five years. 'X' would offer banking, shopping, texting and calling, travel booking, stock trading, and various other services. 
However, Musk has had a difficult time convincing Twitter users to pay for the platform's existing perks, with fewer than 200,000 people signing up for Twitter Blue subscriptions as of April. The recent announcement that free users would be limited to viewing 1,000 tweets per day, seen by many as an attempt to force users onto Twitter Blue, has only encouraged an exodus from the site.  
To reverse that trend, Musk recently announced that Twitter Blue users could receive a cut of the ad revenue from their posts. The first round of checks reached creators earlier this month, revealing that those such as longstanding anti-Trump reply-guy Brian Krassenstein are pulling in close to $25,000. 
Meta, the parent company of Facebook, launched its own Twitter competitor called Threads earlier this month to much fanfare, billing it as a "kind" version of Twitter with stricter content moderation rules. While nearly 50 million people have signed up, half of them haven't come back, according to a study by data tracker SimilarWeb. 
Musk has threatened to sue Meta for allegedly using Twitter's trade secrets and intellectual property, as well as many of its former employees, to develop a copycat "Twitter-killer" platform.
You can share this story on social media:
#Musk #announces #Twitter #logo #change #World #News