The gang had allegedly been readying itself for a "race war" and plotting terrorist attacks
Finnish police and the National Bureau of Investigation (NBI) have concluded a preliminary investigation into a neo-Nazi extremist group, which is suspected of plotting terrorist acts involving the use of 3D-printed firearms. The group was active in the city of Lahti, some 100km northwest of Helsinki.
The group involved at least four suspects, the police said in a statement on Thursday. They were found in possession of four FGC-9s, which are 3D-printable 9mm submachine guns. The weapons are arguably the best-known 'product' of the Deterrence Dispensed (DetDisp) group, a decentralized online collective promoting and distributing open-source 3D-printed firearms.
The suspects are believed to have manufactured the four FGC-9s firearms themselves as they were found in possession of a 3D printer. Police seized a cache from the group of some 1,500 ammunition rounds for the guns, a rifle, a less-lethal handgun illegally converted into a proper firearm, as well as assorted far-right memorabilia. Three marijuana grow boxes were also seized during the searches.
The investigation was originally launched on suspicion of aggravated firearms crimes, but police ultimately uncovered the suspects' intentions to carry out terrorist attacks.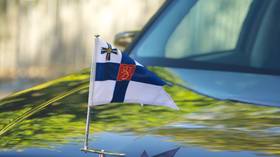 "The targets of the planned violent attacks were selected based on their skin color, political or other ideological views. In addition to the individual targets, the suspects have planned infrastructure attacks, including the electricity network and rail traffic," Detective Inspector Tuomas Kuure said.
Three of the suspects are aged between 20 and 30, while the fourth is over 60. They were arrested late last year, but were ultimately released from pretrial detention. One of the suspects, however, ended up in police custody again back in March on suspicion of training to commit a terrorist act and other offenses.
The group is believed to have been influenced by the so-called accelerationist ideology, a popular movement among contemporary neo-Nazis. The proponents of such ideology believe that a purportedly inevitable collapse of democratic societies and a looming "racial war" should be 'accelerated' through violence, including political assassinations, murders and terrorist attacks.
The suspects were actively using 'accelerationist' language in their communications on messaging services, including such terms as "siege," "incitement" and "race war," Kuure told Finnish public broadcaster Yle. The suspects also argued it would be too late to start manufacturing weapons after a "race war" had already started, the inspector revealed.
You can share this story on social media:
#NeoNazi #group #armed #3Dprinted #guns #busted #World #News