The third launch in less than a week comes ahead of the 1953 armistice anniversary
The Democratic People's Republic of Korea launched two ballistic missiles from the vicinity of Pyongyang into the Sea of Japan on Monday evening, according to the South Korean military and the Japanese coast guard.
The consecutive launches happened between 11:55 and midnight local time, the Joint Chiefs of Staff in Seoul said in a statement. What appeared to be short-range ballistic missiles flew for about 400 kilometers (248 miles) before splashing down into the sea.
The South Korean military condemned the launches as a "grave provocation" threatening regional peace and stability, and said it would work with the US to better monitor North Korean military activities, according to AP.
Several hours before the missile test, a nuclear-powered US submarine docked at South Korea's Jeju Island. Unlike the USS Kentucky, the ballistic missile submarine which arrived in the port of Busan last week, the USS Annapolis is armed with conventional weapons.
Pyongyang reacted to the arrival of the US submarine by test-firing ballistic and cruise missiles. On Thursday, the state news agency KCNA shared a government statement threatening a nuclear response if the US deployed aircraft carriers, bombers and missile submarines in the South.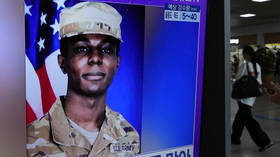 Last week, a US soldier stationed in South Korea crossed the armistice line into the DPRK. Washington has reached out to Pyongyang via the United Nations Command (UNC), established in 1950 and continuing to operate to the present day.
The increase in tensions comes ahead of the anniversary of the truce that froze the Korean War on July 27, 1953. The conflict between the North and the South quickly drew in the US and China, but neither side could prevail after the bloody battles of 1951. The Korean Peninsula was eventually partitioned along the armistice line, pending a final peace treaty that was never signed.
South Korea plans solemn ceremonies honoring the dead on Thursday, with the participation of US and other foreign veterans of the conflict. North Korea, meanwhile, plans to celebrate victory in what it calls the 'Great Fatherland Liberation War', with a high-ranking Chinese delegation in attendance.
#North #Korea #fires #missiles #Seoul #World #News