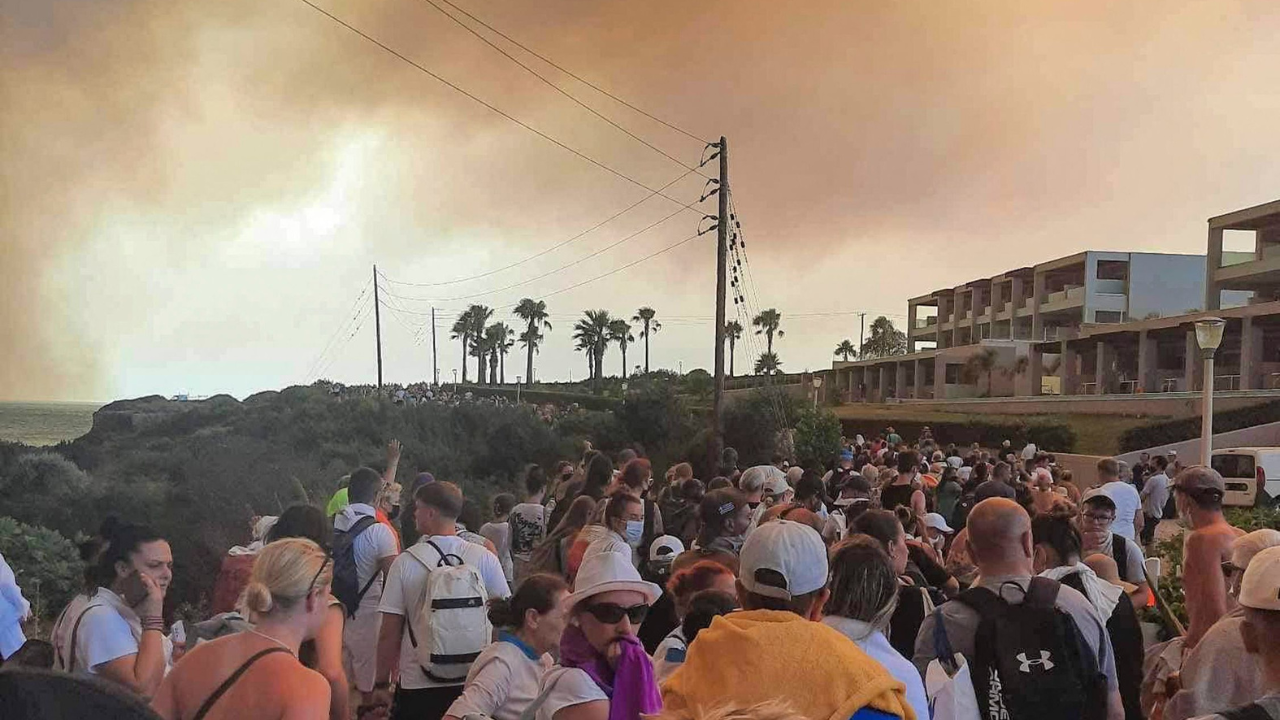 ATHENS: Some 19,000 people have been evacuated from the Greek island of Rhodes as wildfires continued burning for a sixth day on three fronts, Greek authorities said on Sunday.
The Ministry of Climate Change and Civil Protection said it was "the largest evacuation from a wildfire in the country."
Local police said that 16,000 people were evacuated by land and 3,000 by sea from 12 villages and several hotels. Six people were briefly hospitalized with respiratory problems and were later released. A person who fell and broke their leg during a hotel evacuation and a pregnant woman remain hospitalized, the latter in good condition, authorities say.
Package holiday companies TUI and Jet2 have canceled flights to Rhodes. Jet2 said it was canceling five flights due to leave for Rhodes on Sunday. It said it would fly the five planes to Rhodes empty to bring back customers on the island. TUI said it was canceling all its flights to the island until at least Tuesday.
British tourist Kevin Evans was evacuated twice on Saturday with his wife and three young children — first from Kiotari to Gennadi, then as the fire approached to the island's capital in the northeast, he told Britain's PA news agency.
"There were lots of people in Gennadi sent from the hotels — many in just swimsuits having been told to leave everything in the hotel," he told PA. "As night fell, we could see the fire on the top of the hills in Kiotari. They said all the hotels were on fire."
Rhodes travel agent Stelios Kotiadis confirmed to the Associated Press that the evacuation was hasty. "There was panic. … The authorities were overwhelmed," he said.
But, he said, the abandoned hotels "are in much better condition than reported in social media. … They will be ready to reopen very soon if Civil Protection gives the go-ahead."
Kotiadis said he and other travel agents sent buses to the island's southeast to pick up evacuated tourists. They had to go the long way around, since the road running down Rhodes' eastern side was blocked in places.
"There were 80-90 people cramming into 50-seater buses," he said. He added that 90% of the evacuated tourists are from European countries.
The British ambassador to Greece, Matthew Lodge, said the U.K. government was sending a rapid deployment team to support British nationals on Rhodes.
The Greek Ministry of Foreign Affairs said that personnel were on their way to Rhodes to set up a help desk at Rhodes International Airport for visitors who have lost their travel documents.
Fire Brigade spokesman Yannis Artopios said that, early Sunday afternoon, 266 firefighters and 49 engines were operating on the ground, together with hundreds of volunteers. Ten firefighting planes, including two from France, two from Turkey and one from Croatia, are operating in the area, as well as eight helicopters.
There are substantial reinforcements from the European Union.
"Over 450 firefighters and seven airplanes from the EU have been operating in Greece as fires sprout across the country," EU Commissioner for Humanitarian Aid and Crisis Management Janez Lenarcic tweeted early Sunday afternoon.
In the mountainous part of Rhodes, an active front of the wildfire, firefighters have been trying to stop the blaze from spreading to nearby dense forests.
Southwest of the resort of Kiotari, the main focus of Saturday's evacuations, a trench was being dug to keep the fire from crossing a creek and threatening the village of Gennadi.
The weather remains hot in the Mediterranean country on Sunday. Before midday, temperatures had already reached 38 C (100 F). Winds were low but are notoriously variable in Rhodes, as in other Greek islands.
Some of the evacuated, including tourists, are being accommodated in other hotels, gyms and a conference center. A shipping company has offered one of its ships for accommodation. Kotiadis, the travel agent, told the Associated Press that three ships are being used.
Authorities have designated an unprecedentedly large part of the mainland, the whole eastern part of central and southern Greece, plus the islands of Evia and Rhodes as well as large swaths of the southwest, as Category 5, the highest for risk of fire outbreaks as of Sunday. A further chunk of Greece has been designated Category 4, very high risk.
Temperatures reached 43 C (110 F) in the capital, Athens, Sunday afternoon and 45 C (113 F) in the interior plains of central Greece. A relative respite from the heat Monday, with highs of 38 C (100 F) forecast, will be followed by yet another heat wave from Tuesday that will last until at least Friday, meteorologists have warned.

#Rhodes #Greek #authorities #evacuate #people #wildfire #blazes #island #Rhodes