The Women's Tennis Association says it is "evaluating" why Vera Zvonareva was barred from entering Poland
Russian tennis star Vera Zvonareva was blocked from entering Poland on Saturday, with the EU country's interior ministry saying in a statement that she is on a list of people considered to be "undesirable."
"The Border Guard prevented a Russian tennis player from entering Poland," the ministry announced on Saturday. "Vera Zvonareva, using a visa issued by France, tried to get into our country on a flight from Belgrade to Warsaw."
The statement added that the interior ministry views Zvonareva as an "undesirable" individual, and that she departed to Podgorica in Montenegro on Saturday. She had landed in Warsaw on Friday and had "stayed in the transit zone of Warsaw Chopin Airport" until her departure.
Poland, a strong supporter of Ukraine throughout its conflict with Russia, has frequently refused to grant entry to people from either Russia or Belarus since soon after the onset of Moscow's offensive last year. Zvonareva had previously expressed her opposition to the military operation in March of last year, writing "No war" on the visor of her hat while playing at the Miami Open in March 2022.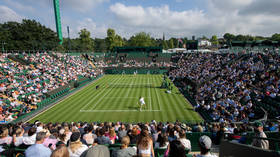 The former world number two, a bronze medalist at the 2008 Olympics in Beijing, was attempting to gain entry to Poland to compete in the Warsaw Open, which begins on Monday. The organizers of the event have not yet commented on Zvonareva's expulsion from Poland.
The Women's Tennis Association (WTA) said in a statement on Saturday that it's "aware of the situation" involving Zvonareva. It added: "The safety and wellbeing of all players is a top priority of the WTA. Vera has departed Poland and we will be evaluating the issue further with the event."
Numerous athletes from Russia and Belarus have been blocked from competing in some sports since the conflict began in Ukraine last year. This came following a recommendation by the International Olympic Committee (IOC), which was subsequently adopted by various sporting federations.
Wimbledon, the annual Grand Slam tennis event that takes place in London, lifted its ban on Russian and Belarusian competitors this year – however, this policy change was "subject to [them] competing as neutral athletes."
You can share this story on social media:
#Russian #tennis #player #refused #entry #country #World #News