The 1975 have said they have cancelled shows in Taiwan and Indonesia – a day after Malaysia banned it from performing there after its frontman kissed a male bandmate on stage and criticised the country's anti-LGBT laws.
"Unfortunately, due to current circumstances, it is impossible to proceed with the scheduled shows," the British band said in a statement.
They did not elaborate further.
The band were headlining the Good Vibes Festival in Kuala Lumpur on Friday when Matt Healy staged his protest.
The gig was cut short and the group were banned from performing in the Muslim-majority country, where homosexuality is a crime punishable by 20 years in prison.
The festival had been due to continue on Saturday and Sunday, but was cancelled by the Malaysian authorities as a result of Healy's "controversial conduct and remarks".
Other bands due to play over the weekend were The Strokes, who had been Sunday's headline act, The Kid Laroi and Ty Dollar $ign.
Click to subscribe to Backstage wherever you get your podcasts
It comes after Healy hit out at the Malaysian government's stance on LGBT rights in a profanity-strewn speech to the festival audience.
In footage posted on social media, he said the band had considered pulling out of the show but did not want to disappoint their fans.
He said: "I made a mistake. When we were booking shows, I wasn't looking into it.
"I don't see the f***** point… of inviting The 1975 to a country and then telling us who we can have sex with."
'We just got banned'
Healy then kissed bassist Ross MacDonald as the band played the song I Like America & America Likes Me.
Soon afterwards Healy cut short the set, telling the crowd: "All right, we gotta go.
"We just got banned from Kuala Lumpur, I'll see you later."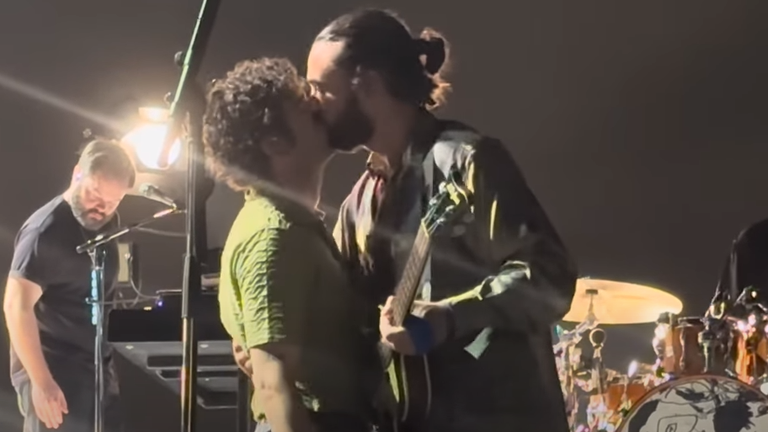 In a statement, festival organisers said the band's set was stopped due to "non-compliance with local performance guidelines".
Malaysia's communications minister Fahmi Fadzil branded the band's actions as "very disrespectful" and demanded a full report by the event's organisers.
Read more:
Watchmaker sues Malaysian government for seizing rainbow Pride watches
'Immediate cancellation directive'
In a statement the organisers said: "We deeply regret to announce that the remaining schedule of Good Vibes Festival 2023, planned for today and tomorrow has been cancelled following the controversial conduct and remarks by UK artist Matt Healy from the band The 1975.
"This decisions adheres to the immediate cancellation directive issued… by the Ministry of Communications and Digital.
"The ministry has underlined its unwavering stance against any parties that challenge, ridicule, or contravene Malaysian laws.
"We sincerely apologise to all of our ticket holders, vendors, sponsors, and partners."
Challenging anti-LGBT laws
Healy has previously used stage appearances to challenge anti-LGBT laws.
He was criticised for kissing a male fan at a 2019 concert in the United Arab Emirates, where homosexuality is outlawed and punishable by 10 years in jail.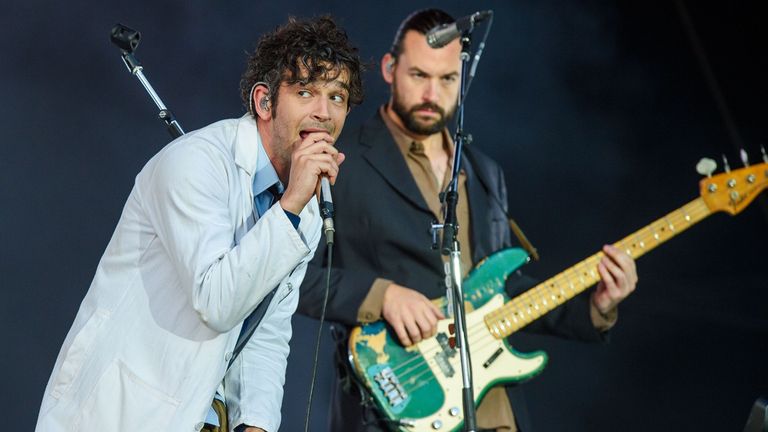 Writing on Twitter at the time, Healy said: "Thank you Dubai you were so amazing. I don't think we'll be allowed back due to my 'behaviour' but know that I love you and I wouldn't have done anything differently given the chance again."
The incident in Malaysia comes before crucial regional elections that see Prime Minister Anwar Ibrahim's progressive coalition go up against a mostly conservative ethnic-Malay, Muslim alliance, which has accused the government of not doing enough to protect the rights of Muslims in the multiracial country.
The premier has repeatedly said his government would uphold principles of Islam and would not recognise LGBT rights.
In May, Malaysian authorities confiscated watches made by the Swiss company Swatch from its "Pride collection", which celebrates LGBT rights.
#band #cancel #Indonesia #Taiwan #shows #Malaysia #LGBT #controversy #Ents #Arts #News