Brussels requires Ankara to impose stricter citizenship rules to prevent an influx of former asylum seekers into EU nations
Türkiye will amend its immigration policy to make it more difficult for asylum seekers to gain citizenship, as Ankara seeks to meet European Union requirements and boost its bid to join the bloc, Hurriyet newspaper reported on Saturday.
Citing anonymous diplomatic sources, Hurriyet wrote that Turkish immigration officials intend to introduce more robust measures to scrutinize asylum applications, particularly as they relate to Syrian nationals. It adds that Brussels is concerned by the possibility of migrants obtaining a Turkish EU visa, potentially leading to an influx of former asylum seekers to other nations in the bloc through Ankara.
"There are people who get citizenship from Türkiye and go to Europe," a diplomat told Hurriyet, identifying this as one of the potential issues hindering Turkish accession. "The European Union also has a lot to do. It is not something that cannot be done, provided that Türkiye protects its borders well, guarantees to prevent the migration of immigrants to EU countries, and progresses in [other] issues."
Türkiye's protracted application to join the EU has been complicated by numerous factors, not the least of which are the standards and requirements imposed on applicants by Brussels. Having already met 66 of the 72 criteria needed by the EU for visa-exempt travel for Turks in Europe, Hurriyet said, Ankara has begun addressing the remaining six.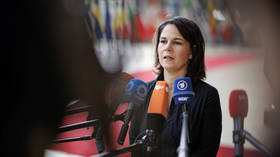 In addition to the strengthening of immigration controls, these include anti-terrorism and anti-corruption rules, as well as cooperation with the European police service Europol, personal data protection, and legal assistance for other EU members. The latter is a complicated issue due to the international community's view that Northern Cyprus, or the Turkish Republic of Northern Cyprus, is a Turkish-occupied territory of Cyprus – a full EU member state.
Separately, an acceptance of 'freedom of expression' is also under debate in Ankara, Hurriyet's source said, and the compatibility of this with Turkish views on issues like public protests and demonstrations. Ankara reacted with anger to a recent Quran-burning stunt in Stockholm, which threatened to derail Sweden's entry in NATO before Turkish President Recep Tayyip Erdogan relented and gave the greenlight for the Scandinavian country to enter the US-led military bloc earlier this month.
Türkiye was granted EU candidate status in 1999. Discussions on accession to the EU usually take around a decade, though Türkiye's has been ongoing for 18 years due to issues related to Ankara's adoption of the Copenhagen criteria – the rules generally considered necessary for an applicant to join the bloc.
The EU suspended the talks in 2018 over what it said were human rights issues, following a failed coup in 2016. There are also thought to be concerns in Brussels over allowing a Muslim-majority nation into the EU, and expanding the bloc's borders eastward towards Syria, Iran and Iraq.
#Türkiye #give #demands #media #World #News