European Commission spokesperson Peter Stano has told Russia's Izvestiya media outlet that the process would take "years"
There is no chance of Türkiye becoming an EU member next year, European Commission spokesperson Peter Stano has said. Ankara recently agreed to unblock Sweden's NATO accession bid, with President Recep Tayyip Erdogan claiming that Brussels should "open the way" to EU membership for his country in return.
On Wednesday, Russia's Izvestiya media outlet quoted Stano as saying that the "process of joining the EU takes years, not hours," when asked about Türkiye being admitted into the bloc. He added that at present, Brussels is not even planning to grant Ankara visa-free status.
For that to happen, Türkiye would have to meet "all the necessary criteria, which include human rights and political freedoms," Stano pointed out.
Speaking to the A-Haber TV channel over the weekend, Turkish Vice President Cevdet Yilmaz said Ankara would "take more active efforts on issues concerning the customs union [with the EU] and the visa-free travel regime."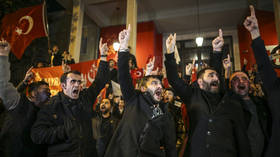 Last Monday, President Erdogan agreed to give the green light to Sweden's NATO application after opposing it for more than a year. Ankara had used its right to veto, demanding that Stockholm do more to crack down on pro-Kurdish "terrorist organizations" which have taken refuge in Sweden.
Earlier that same day, the Turkish head of state had linked unblocking Sweden's NATO bid with progress on Türkiye's accession to the EU.
"Türkiye has been waiting at the door of the European Union for over 50 years now, and almost all of the NATO member countries are now members of the European Union," Erdogan stated.
He called on Brussels to "open the way for Türkiye's membership in the European Union," adding that Ankara would in turn "pave the way for Sweden" into the US-led military bloc.
NATO Secretary-General Jens Stoltenberg denied any linkage between the bloc's expansion and Türkiye's EU accession.
Elsewhere, commenting on Erdogan's EU hopes, Russian presidential spokesperson Dmitry Peskov advised the Turkish president not to wear "rose-tinted glasses."
"Nobody wants to see Türkiye in Europe. I am referring to Europeans," the Kremlin official claimed.
Türkiye applied for EU membership in 1987 and was recognized as a candidate 12 years later. While membership negotiations did get underway in 2005, progress was slow, with the process effectively being frozen since 2016.
#Türkiye #wont #join #official #World #News