Key defense employees earn less than supermarket workers, the Daily Mirror reports
British deliveries of cutting-edge missiles to Ukraine could be in jeopardy due to a strike at a key military facility where workers earn around minimum wage, the Daily Mirror reported on Friday, citing sources.
The strike was reportedly backed by 50 key employees at the Defence Equipment and Support depot in Beith, Scotland. The facility supplies Storm Shadow and Brimstone missiles – which Moscow says have been used to strike civilian targets – to Ukraine.
As a result, British defense officials are said to be scrambling to take "contingency measures" to keep the weapons flowing.
The dispute between the UK Defence Ministry and the workers revolves around the pay gap between those who assemble the weapons and those who move them. The first category is paid £16.82 ($22) an hour, along with bonuses and allowances, which totals £38,000 ($50,000) a year.
However, the second category – non-craft workers – earn just £10.42 an hour and receive no bonuses, putting their annual salary at just £20,500. The living wage in the UK is £10.90 an hour.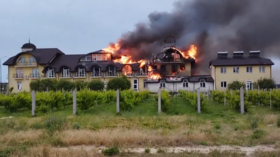 "Basically the non-Craft workers could earn more at Lidl, at around £11 an hour," a source told the Daily Mirror, adding that the current arrangement means that people driving explosives are paid less than those moving groceries around a supermarket.
The source noted that if the strike continues for long, it "could eventually have implications for missiles going to Ukraine or Faslane," a UK military base hosting nuclear submarines.
The strike, the first since the depot's creation in 1943, was supported by 93% of GMB union members. Strike organizer Chris Kennedy called on Defence Secretary Ben Wallace to intervene, warning that otherwise, "supplies of the crucial missiles manufactured at Beith will soon run low."
A Defence Ministry spokesperson said, however, that the development will not affect deliveries.
The UK announced plans to send 600 Brimstone missiles to Ukraine in January, with Russian officials claiming that Kiev has used them to target civilian facilities. The same could be said of Storm Shadow missiles with a range of 250km, which were fired at two civilian plants in the Russian city of Lugansk in May, injuring several people, including six children, according to Moscow.
You can share this story on social media:
#depot #supplying #missiles #Ukraine #strike #media #World #News