Pentagon officials have reportedly claimed that Kiev is now pouring Western-trained reserves into the battlefront
A New York Times report has claimed that nearly two months after Ukraine launched its long-awaited counteroffensive against Russian forces, Kiev has begun the "main thrust" of the operation by deploying thousands of troops that had previously been held in reserve.
"Ukrainian officials have told US officials that the enlarged Ukrainian force would try to advance south through Russia's minefields and other fortifications toward the city of Tokmak and, if successful, on to Melitopol, near the coast," the NYT reported on Wednesday, citing two Pentagon officials who spoke on condition of anonymity. Many of the newly deployed soldiers were trained and equipped by Ukraine's Western benefactors, according to the report.
The newspaper also cited interviews on Wednesday with Ukrainian forces who claimed they were "steadily pushing Russian troops back." However, their progress has been "incremental, with no major breakthroughs. They have been slowed by minefields, and some said the biggest obstacles were withering artillery fire and airstrikes."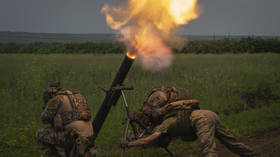 The report dovetails with a statement earlier on Wednesday by the Russian Defense Ministry, which said the Ukrainian army had launched a "massive" assault with three battalions backed by tanks. Russian forces repelled the attack, preventing Kiev's units from breaching their defensive lines near the village of Orekhov in the Zaporozhye Region. The ministry added that Ukraine had lost 22 tanks, ten infantry fighting vehicles and more than 100 troops in the battle.
Russian troops also repelled an attack on the village of Rabotinio and used airstrikes and artillery to thrash Ukrainian units near Malaya Tokmachka and Yablokovo. Ukrainian forces have lost tens of thousands of troops and thousands of pieces of heavy military hardware since the counteroffensive began in early June, according to the ministry.
The NYT said it was unable to verify Russian reports that the Ukrainian assaults had been stymied, but the newspaper did acknowledge that "little has gone according to plan" during the counteroffensive.
Kiev's goal is to push south toward the Black Sea and sever the land bridge to Crimea – cutting off Russia's ground access to Kherson Region – or at least advance far enough to bring the strategically key peninsula within artillery range. Russia has relied on Crimea as the base for its Black Sea fleet and a key supply hub for its forces in Donbass.
READ MORE:
Kiev's defense chief makes new excuses for counteroffensive failures
Ukrainian officials have told Washington that the operation, if successful, could take one to three weeks, the NYT said, adding, "Officials at the White House and Pentagon said on Wednesday that they were watching the increased activity with keen interest." As one senior official told the newspaper, "This is the big test."
#Ukraine #begins #main #thrust #counteroffensive #NYT #World #News