Negotiations with Pyongyang for the release of Travis King have begun, the UN Command has announced
A "conversation has commenced" with Pyongyang for the release of US Army soldier Travis King who crossed the demilitarized zone between North and South Korea last week, General Andrew Harrison, the deputy commander of the United Nations Command (UNC), announced on Monday.
Harrison said that King's case was still under investigation and that he could not provide any details about the soldier or the specifics of the negotiations, explaining that "there is a mechanism that exists under the armistice agreement, whereby lines of communication are open between the UNC and the Korean People's Army."
The general stressed that King's welfare was the primary concern for the UN Command. "Clearly we're in a very difficult and complex situation which I don't want to risk by speculation or going into too much detail about the communications that are existing," he said.
Harrison noted that he "remains optimistic" but made no guarantees about how the talks with Pyongyang would proceed or what agreements could be reached.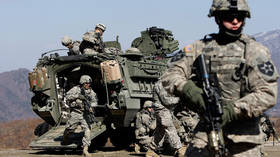 According to reports, King voluntarily crossed the so-called Military Demarcation Line last Tuesday while on an orientation tour of the Joint Security Area at the Panmunjom truce village. Eyewitnesses from the group say that at one point in the tour King let out a loud laugh and started running towards the North Korean border, never to be seen or heard from again. 
Shortly after the incident, the UNC and the Pentagon said they believed the soldier was apprehended by North Korean forces. Pyongyang, however, has yet to release any public information about the serviceman.
The reason for King's daring bolt to North Korea has yet to be confirmed, but anonymous US officials have reportedly told Reuters that the soldier was due to face disciplinary action in his homeland for several run-ins with the law.
According to the Associated Press, one day before his crossing, King was even escorted by the US military to a local airport, from where he was due to fly to Fort Bliss, Texas. However, instead of boarding the plane, the soldier somehow managed to join a group of tourists heading for the North Korean border.
The incident marks the first such border crossing by an American soldier in nearly five years. It comes at a time when Pyongyang and Washington are feuding over alleged provocations on both sides, including missile tests by North Korea and large-scale joint exercises by the US and South Korean militaries.
#comments #detained #soldier #North #Korea #World #News