The youngster has the "capacity" to understand the charges against him in an adult court, a judge has said
An 11-year-old boy has been deemed competent to face first-degree homicide charges in an adult court in the US state of Wisconsin, after he allegedly shot and killed his mother during an argument over video game equipment last November.
"He knew his case was in adult court, he knew that his case was a felony, he knew that there were two types of cases – felonies and misdemeanors," Milwaukee County prosecutor Sara Waldschmidt argued to the court on Wednesday. "He knew it was serious." 
Milwaukee County Circuit Judge Jane Carroll reached the same conclusion on Wednesday after hearing competing testimony from two psychologists who examined the boy, who was ten years old at the time of the incident. One of the mental health experts found that the boy was fully aware of the nature of the changes against him, while the other reached the opposite conclusion, principally due to the defendant's age.
In her ruling, Carroll stated her belief that the boy "does have the capacity to understand the proceedings against him."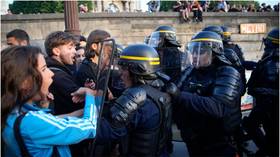 The charge originates from a shooting in which the boy's 44-year-old mother died, allegedly after she refused to purchase an Oculus virtual reality headset to be used in video-gaming. Reports first indicated that the boy had pointed a gun at his mother with the intention of shooting a wall to "scare her." She was struck when she walked into the path of the bullet, he allegedly told police.
A day after the shooting was claimed to be an accident, relatives of the boy contacted authorities to question his version of events. He later admitted to intentionally pointing the firearm at his mother and pulling the trigger, the Milwaukee Journal Sentinel reported last year, citing a copy of the criminal complaint.
It was also reported that the boy allegedly purchased the virtual reality equipment using his mother's account after her death. The boy's family told police during the investigation that he had previously undergone mental health treatment and had engaged in disturbing behavior, local media said.
Attorneys representing the boy, who has not been identified by local media, had earlier indicated that they were pursuing a trial in a juvenile court. The status of this application is unclear, the Milwaukee Journal Sentinel reported. The youngster is being held in custody on $50,000 bail at a juvenile center in Milwaukee.
At a hearing last year, the boy requested that bail be set at no more than the contents of his piggy bank – around $100 – the New York Post reported in December. Milwaukee state law requires children aged ten and upwards to be charged as adults for a range of particular crimes, homicide included.
You can share this story on social media:
#boy #competent #stand #trial #mothers #death #World #News