Reuters claimed the soldier was due to be flown home to face disciplinary action when he crossed the demarcation line
The US service member who fled to North Korea on Tuesday had been involved in several run-ins with the law, media outlets have reported. The soldier, private 2nd Class Travis King, became the first American serviceman to be detained in the DPRK in nearly five years.
Reuters reported on Wednesday, citing a South Korean court ruling and the soldier's lawyer, that King had faced two separate assault allegations before crossing the demilitarized line.
Two anonymous US officials told the media outlet that the soldier had been due to face disciplinary action in his homeland after spending time in South Korean custody on July 10. According to the Associated Press, King was escorted by the US military to a local airport, from where he was due to fly to Fort Bliss, Texas, on Monday.
However, instead of boarding the plane, King allegedly joined a group of tourists headed for the Korean border village of Panmunjom, where he crossed the demarcation line on Tuesday.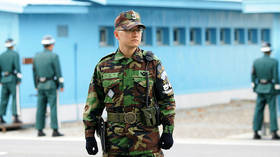 According to Reuters, King was fined 5 million won ($4,000) in early February after pleading guilty to assault and destruction of public goods. The incident itself reportedly took place last October, when Korean police responded to an altercation involving the US service member. After being placed in the backseat of a patrol car, King let out a string insults directed at Koreans as well as the Korean army and police, Reuters reported, citing court documents. He was also said to have damaged one of the vehicle's doors.
Around a week prior to the incident, King had allegedly punched a man in the face several times at a club, although that case was reportedly settled.
US Defense Secretary Lloyd Austin confirmed at a Pentagon press conference Tuesday that the American serviceman was likely being held in North Korea. "We're closely monitoring and investigating the situation," Austin stated.
Earlier, CBS news channel quoted an eyewitness from the tour group as saying he had thought King's dash to the border was a "bad joke at first," before realizing he was not returning.
You can share this story on social media:
#soldier #fled #North #Korea #history #violence #media #World #News