Ukraine's backers were too slow, allowing Russia to build up defenses, Jack Watling from the Royal United Services Institute says
Ukraine's much-anticipated counteroffensive against Russia was undercut by delays in Western military assistance and bureaucracy, a British military expert claimed in an article released on Sunday. He also warned that the West "will pay the price" unless it ditches its "peacetime approach" to aiding Ukraine.
Writing for The Observer, Jack Watling, a senior research fellow for land warfare at the Royal United Services Institute, said the West had made a number of serious mistakes in setting the stage for Ukraine's counteroffensive, which so far has failed to gain any ground, according to Moscow.
According to Watling, Ukraine clearly communicated to Western capitals what it needed to succeed on the battlefield as early as last year, requesting artillery, engineering capability, protected mobility, air defense systems, and personnel training. However, while Kiev received sufficient artillery and protected mobility, it had a much harder time getting other items on the list, he said.
The West did not approve the delivery of heavy tanks and infantry fighting vehicles to Ukraine until January 2023, despite the fact that Kiev had requested this assistance for months, Watling noted. "Months of delays gave Russian forces time to build their defenses, significantly complicating the task for the Ukrainians."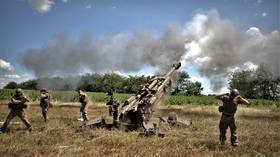 Another problem was that much of the training provided to Kiev by the West was "poorly designed," according to Watling. While conducting exercises in Western countries, Kiev's units were unable to "train as you fight" because they could not fly their drones due to legal constraints and use their own software that's not certified by NATO.
In addition, while Western militaries did their best to adapt to the Ukraine conflict, other government branches were lagging behind, the senior research fellow said, noting that, while the strain on NATO stockpiles has been evident since July 2022, "NATO countries have been sluggish in expanding munitions production." 
Ukraine's forces went on a large-scale counteroffensive against Russia in the early days of June, but all of their attacks have failed with heavy losses, according to the Defense Ministry in Moscow. On Sunday, Russian President Vladimir Putin said that Kiev had lost more than 26,000 troops since the start of the counteroffensive.
Ukrainian President Vladimir Zelensky has admitted to having difficulties, saying the counteroffensive is developing "slower than desired." He attempted to shift the blame for the apparent failures to the West, saying that Ukraine did not receive enough munitions, weaponry, and training.
You can share this story on social media:
#Western #bureaucracy #affected #Kievs #counteroffensive #expert #World #News