Press secretary Karine Jean-Pierre dismissed the possibility when asked by journalists
White House press secretary Karine Jean-Pierre has vigorously denied suggestions that US President Joe Biden could pardon his son, Hunter Biden, who faces charges of tax evasion and illegal gun possession.

"From [a] presidential perspective, is there any possibility that the president would end up pardoning his son?" Jean-Pierre was asked by a journalist during her daily briefing on Thursday.
"No," the press secretary replied. The reporter then tried to extract a more detailed answer, to which Jean-Pierre reiterated: "I just said no. I just answered."
The White House official declined to say if President Biden had talked to his son since his prospective plea agreement was torpedoed by a judge on Wednesday.
Under the terms of a deal previously reached between Hunter Biden and federal prosecutors, he would have pleaded guilty to two tax charges and faced probation instead of an actual prison term. He would also have separately joined a pretrial diversion program, rather than face charges of illegally possessing a gun while under the influence of illegal drugs.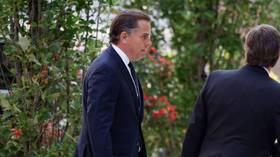 During a hearing in Wilmington, Delaware, US District Court Judge Maryellen Noreika rejected the settlement as "atypical" and "not straightforward," as it linked the tax plea agreement to the deal on gun charges. Noreika said she was concerned that one of the provisions in the settlement may give Hunter Biden blanket immunity, shielding him from any further prosecution.
Among others legal issues, the president's son could face federal charges related to his failure to register as a foreign agent before striking lucrative deals in Ukraine, China, and elsewhere.
The tax charges against Hunter Biden stem from his failure to pay taxes on more than $1.5 million in income in 2017 and 2018. So far, he has pleaded not guilty on both counts.
You can share this story on social media:
#White #House #rules #pardon #Hunter #Biden #World #News