A woman and her parents have been arrested after a headless body was discovered in a hotel bathtub in Japan.
The body of Hitoshi Ura was found in the red light district of Susukino – known for its so-called short-stay "love hotels" – in the city of Sapporo on the northern island of Hokkaido in northern Japan on 2 July.
CCTV shows Mr Ura, 62, checking in with a woman police believe to be suspect Runa Tamura, 29.
She and her father, psychiatrist Osamu Tamura, 59, have been arrested on suspicion of conspiring to behead the victim at a hotel room and moving his severed head in the middle of the night.
Her mother, Hiroko Tamura, 60, is alleged to have plotted to transport the head to their home.
A hotel worker reportedly found Mr Ura's headless corpse slumped in the bathtub after going to the room because no one had officially checked out.
The head remains missing, police in Hokkaido have said.
Officers raided the suspects' home and are continuing to investigate a possible motive for the killing. They have yet to confirm whether the victim and Runa Tamura are known to each other.
Local media reports say Mr Ura arrived at the hotel with a woman wearing light-coloured clothing and a wide-brimmed hat.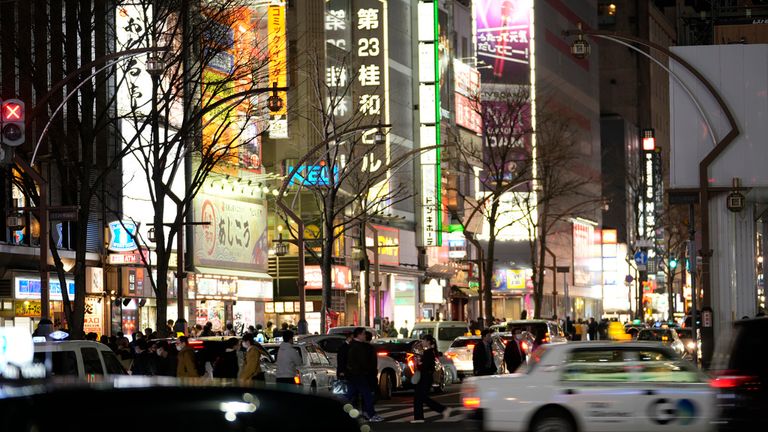 Read more on Sky News:
People 'fight' to be evacuated in Rhodes
Woman whose 'kidnapping' sparks major search admits she wasn't abducted
Oppenheimer sex scene that quotes sacred Hindu scripture sparks fury
She left alone three hours later wearing black, according to Kyodo News, with more than 200 officers deployed to search for her.
None of the victim's belongings were found in the hotel room and the bed was unused.
An autopsy of the man's body revealed he was likely beheaded with a cutting tool after his death, the website reported.
#Woman #parents #arrested #headless #body #bathtub #Japan #love #hotel #World #News