Admiral Lisa Franchetti's appointment may not be confirmed for months due to a protest in the Senate
US President Joe Biden nominated Admiral Lisa Franchetti as chief of naval operations on Friday, rejecting the recommendation of his defense secretary. If confirmed, she will be the first woman to serve on the Joint Chiefs of Staff and the first female Pentagon service chief.
Biden overrode the advice of Pentagon Secretary Lloyd Austin to promote Franchetti, who has served in the military for 38 years and is currently vice chief of naval operations. Austin reportedly favored Admiral Samuel Paparo, who currently commands the navy's Pacific Fleet.
Franchetti is only the second woman ever to achieve the rank of four-star general in the navy and has commanded two aircraft carrier strike groups in the Pacific during her tenure. She also commanded US Naval Forces Korea and held a number of other senior roles.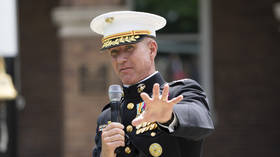 While directing the US Navy's 6th Fleet, Franchetti oversaw the its response to the alleged use of chemical weapons by Syrian President Bashar Assad – allegations that originated with Western-backed propaganda outfit the White Helmets and have since been debunked by experts, including members of the Organization for the Prohibition of Chemical Weapons.
Biden also promoted Paparo to lead the Indo-Pacific Command, while Vice Admiral Steven Koehler was named as Paparo's replacement at the helm of the Pacific Fleet. Air Force General Charles Brown was nominated as chairman of the Joint Chiefs of Staff, soon to replace Mark Milley, who is retiring in September.
While the confirmation of such appointments is generally a mere formality, Republican Senator Tommy Tuberville (Alabama) has for months been waging a one-man war against the Department of Defense's policy of paying for travel for service members or their family members who want abortions, blocking upwards of 250 military promotions since he began his protest in March.
Biden addressed the senator on Friday, calling his actions – or lack thereof – "dangerous."
"In this moment of rapidly evolving security environments and intense competition, he is risking our ability to ensure that the United States Armed Forces remain the greatest fighting force in the history of the world. And his Republican colleagues in the Senate know it," Biden said.
Tuberville's stonewalling has already left the Marine Corps without a confirmed commander for the first time in 164 years, with General Eric Smith unable to be confirmed since taking on the role on an acting basis earlier this month. The senator has denied that his actions endanger national security. 
The Biden administration's hyper-focus on the diversity of its fighting forces has alienated many Americans, who believe he is sacrificing military readiness to appear "woke" as recruitment figures plummet. However, the White House has insisted diversity provides a "strategic advantage" in warfighting.
You can share this story on social media:
#Biden #defies #Pentagon #nominate #female #Navy #World #News