Ben Simmons, the former NBA darling who has become a punchline, is once again being talked up for a huge season on the court with the Brooklyn Nets.
A former No. 1 overall pick and one of the most talented players Australia has produced, Simmons is a three-time NBA All Star enjoying one of the richest contracts in the sport.
But the last two years of his career have been a disaster.
Stream Over 50 Sports Live & On-Demand with Kayo. New to Kayo? Start your free trial now >
Run out of Philadelphia following the 2021 season after being made the scapegoat for the Sixers' latest playoff failure that year, Simmons' time with the Nets has been awful to date.
A mix of mental and physical ailments, including knee and back issues, restricted him to just 42 of a possible 82 regular season games in his debut year in Brooklyn.
His season was shut down in March and he was sidelined as the Nets lost their first-round playoff series to the Sixers in April.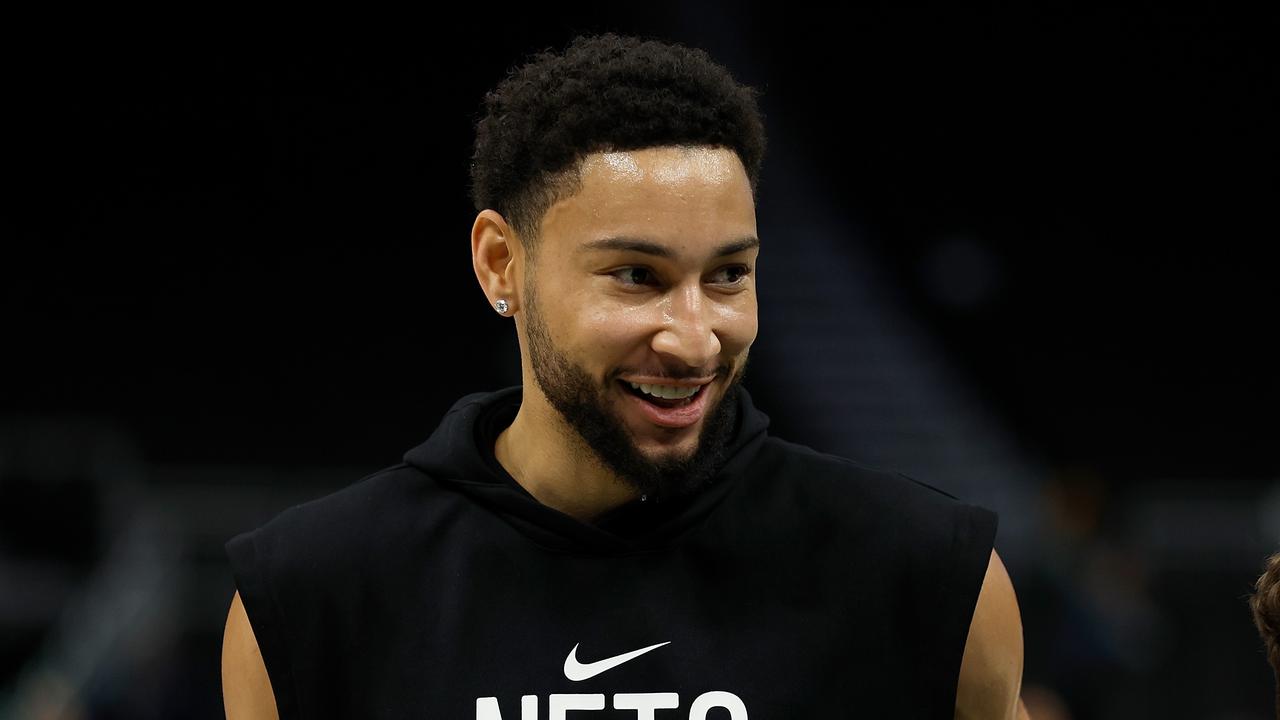 When he was on the court, he tallied career lows in minutes, points, rebounds and assists, contributing just 6.9 points per game.
His previous low scoring output was 14.3 points per game in that 2020-21 campaign.
But there has been a deluge of optimism this week about the just-turned 27-year-old recapturing some of his best form.
He has been declared completely "100% healthy" by a number of sources, meaning he can prepare for the upcoming season with no restrictions.
In an interview with Sirius XM NBA Radio, Simmons' agent Bernie Lee talked excitedly about his prospects.
"The expectation is that he'll be able to start the season day 1 of training camp and definitely the regular season without any limitations in any way," Lee said.
"There's been a protocol that was established for him this summer that has benchmarks and measurements just to make sure everything's staying on track and I would tell you that he's exceeded everything."
Marc Spears, a respected ESPN journalist, also weighed in on Simmons' progress, reading aloud a quote on NBA Today he had received from a source close to the Australian.
"I would say he's in the final stage of prep for the season and he has passed every benchmark and is as healthy as he has ever been since his last year in Philly," the statement read.
"Brooklyn has been incredibly supportive and the plan is for him to be the Nets' point guard and primary ballhandler this coming season.
"The expectation is he will fully resume his career at the level he has (played at) prior to leaving Philadelphia."
Simmons also appears to have the support of his teammates and others around the NBA, including superstar Paul George.
Philadelphia centre Joel Embiid and the Sixers' former coach Doc Rivers were among those that failed to back Simmons towards the end of his time in that city.
But current teammate Mikal Bridges expressed enormous support for Simmons on George's podcast, Podcast P.
"Just be there with him, man, that's the biggest thing, support him," Bridges said when asked about Simmons.
"Obviously we want him to be aggressive (on the court) and stuff but, s**t, like, even if you not, or whatever, we still here for you, you still my man, you still my brother, I ain't going to hate you, none of that.
"I just try to be there, like 'listen bro, you struggle, you struggle, we here for you'.
"You build up confidence, and have confidence in him, especially if he works on it.
"That's the biggest thing, is just he can be confident enough to fail and know we're there for him.
"I'm confident, bro, sky's the limit."
LA Clipper George, a perennial All Star himself, is also confident the Simmons of old will be seen again.
"I'm a big fan of Ben Simmons, man. He still has that game, you don't lose it," George said.
"In his situation, bro, it's so hard, because the media kills you if you don't perform or live up to an expectation.
"If you not 100 per cent, it's going to be exposed. It's worth shining light on that particular situation that fans don't understand.
"There's been countless times where I've had stuff going on, fans don't know, you try to give it a go and it's like 'I'm not 100' and you get crushed by fans, media, they make up stories — if only they knew the real truth.
"Ben Simmons, we wish you (well) bro. We know you going to get through it, man. Just keep powering through it, we hope you get back healthy and safe and return back to elite form."
#Brooklyn #Net #Ben #Simmons #hopes #returning #form #huge #backing