Michael Neser could play in the fifth Ashes Test and the bowling all-rounder may not be the only Australian recalled, with off-spinner Todd Murphy also being considered for The Oval.
It comes as Australian coach Andrew McDonald confirmed Mitchell Starc and Mitchell Marsh are under injury clouds ahead of the final Test.
Speaking to reporters in London on Monday, McDonald wasn't able to offer too much detail on Marsh's hopes of playing in the final Test, conceding the 31-year-old was a "little bit sore".
"Hence why he was off the field," McDonald added.
"So I'm not going to hide that. As to what extent, that will be assessed over the next couple of days."
MORE: 'Real' Cummins question Aussies can't ignore amid shock retirement 'whisper'
Aussies attention turns to fifth test | 02:50
As for Starc, he hurt his shoulder late on day two of the fourth Test while desperately diving to try and prevent a boundary while fielding at mid-on.
Starc was later cleared to bowl for the remainder of the match and while McDonald said the 33-year-old should be "right to go", there will also be the temptation to rest him having retained the Ashes.
"Two separate incidents where he dived and landed on the point of his shoulder," McDonald said.
"So I think he stirred up his AC joint. Don't quote me on that I'm not a medical person … and then the other one he slipped down on the rope and sort of extended the shoulder joint.
"He's looking worse for wear and a little bit sore. All indications are that he'll be right to go but that'll be assessed."
Losing Marsh in particular would be a tough blow for Australia given the West Australian's strong batting performance at Old Trafford, including a half-century in the first innings.
Marsh then backed that up with a crucial 31-run knock in the second innings when he combined with Marnus Labuschagne for a 103-run partnership.
Of course, that is on top of Marsh's run-a-ball 118 at Headingley, where he hit 17 fours and four sixes.
There is every chance Marsh could still play even if he is unable to bowl, with Australia instead using him exclusively as a batter.
MORE ASHES NEWS
4TH TEST TALKING PTS: Green honeymoon over, Marsh resurgence sparks dilemma
'VERY UNLIKE AUSTRALIA': Legend calls out 'ugly' tactics… though they worked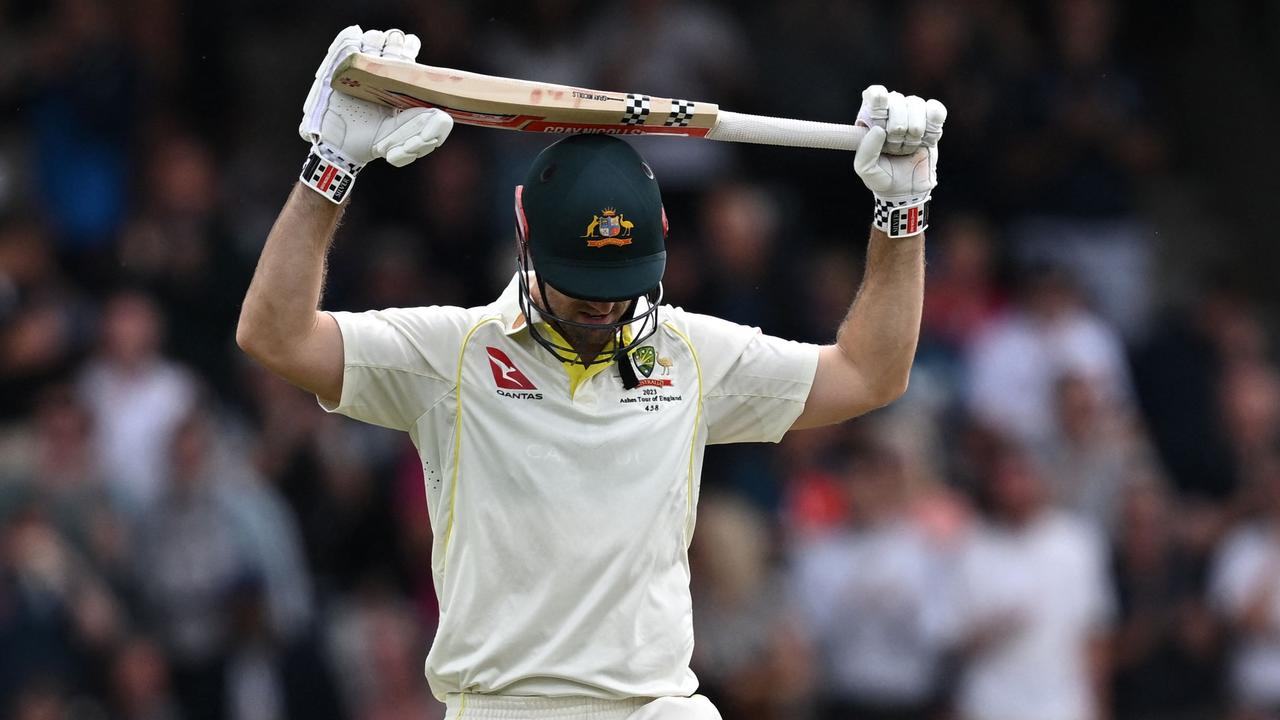 Regardless, the injury clouds hanging over both Marsh and Starc mean Neser could be in the frame for a call-up with McDonald confirming as much on Monday.
"Everyone's on the table, every selection and Michael knows that," McDonald said.
"He was under serious consideration (at Old Trafford) and Leeds also. You're always balancing those who are up and running in the series versus freshness.
"The media at times has critiqued the fact that players haven't played for a certain amount of time and now we're talking about players coming in fresh, so it's a great advancement."
The media though will have plenty to say if Australia does not bring in a specialist spinner for the final Test, having gone without one at Manchester.
The return of all-rounder Cameron Green saw off-spinner Murphy miss out, although there is every chance the Victorian will get another chance pending the weather forecast.
McDonald defended the decision to leave out Murphy on Monday, telling reporters Australia did not believe spin would "play a major part" in determining the result of the Test.
MORE ASHES NEWS
PLAYER RATINGS: Marsh rebirth torments Poms, Marnus comes good in nick of time
UK REACTION: Poms melt down after rain 'robbery' as 10-year hypocrisy exposed
"England will wipe the floor with them" | 05:47
"Whether we should have played a spinner or not, we'll probably never know the answer to that," McDonald added.
"Going into the game we felt as though we picked the right team for the right moment and we left a few runs out there in the first innings and that compounds.
"The game wasn't done. We still had some batters to come, we could've shifted some pressure. It feels as though it was a foregone conclusion that England were going to win that game. I don't believe that and our changeroom doesn't believe that."
McDonald also doesn't buy into the talk that Warner's days in the team are numbered, backing the Australian opener to put together a big knock after scores of 32 and 28 at Old Trafford.
"He's (Warner) too scared to get out" | 01:24
"He got a couple of starts and looked good at periods of time and didn't quite capitalise," said McDonald.
"I'm a big believer that if you can get those 20s and 30s that the big score is just around the corner.
"There's no doubt he'll be disappointed in that. Zak Crawley rode his luck at certain times and put immense pressure on us. Dave's been able to do that over time and I truly believe that there is an innings there still."
#Test #Oval #teams #squads #injury #news #Mitchell #Marsh #Mitchell #Starc #spinner #Todd #Murphy