US-born Dynamo Moscow defenseman Brennen Menell has been approved for a Russian passport by presidential decree
Minnesota native Brennen Menell, a star defenseman for the Dynamo Moscow hockey team, has been granted Russian citizenship by President Vladimir Putin.
Putin issued a presidential decree on Thursday granting Menell's request for Russian citizenship. The 26-year-old former National Hockey League (NHL) player was traded by a Belarusian team to Dynamo Moscow last September and signed a three-year contract extension with his new team in April.
Menell won't necessarily have to renounce his US citizenship to carry a Russian passport. US action-movie star Steven Seagal, who received Russian citizenship in 2016 and serves as a special envoy for the Russian Foreign Ministry, reportedly retained his US citizenship. Others, such as US boxing legend Roy Jones Jr., have done the same.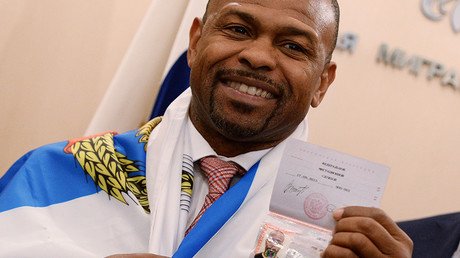 After going undrafted by the NHL, Menell starred in North America's Western Hockey League. He then landed a contract with his hometown NHL team, the Minnesota Wild, in 2017. He was an all-star defenseman for the Wild's American Hockey League affiliate in Iowa, but he appeared in only five games with the NHL club before opting to sign with Dinamo Minsk of the Kontinental Hockey League (KHL) in 2020. He has thrived in the KHL, producing eight goals and 64 assists in 102 games.
Menell reportedly wasn't the only North American hockey player seeking a Russian passport. Canadian-born Brendan Leipsic, a forward with SKA Saint Petersburg, has written a letter to Putin requesting citizenship, according to a Russian media report. Leipsic lost his contract with the NHL's Washington Capitals in 2020 because of "misogynistic" comments posted on social media.
Hockey legend Viacheslav Fetisov, a former NHL star who now serves in the Duma, applauded Leipsic's decision to seek Russian citizenship. "This is a very good trend for Russia," Fetisov told sports news outlet Championat earlier this month. "For the political situation, it is beneficial for us when foreigners from the United States and Canada receive a Russian passport of their own free will. This suggests that propaganda in the West collapses when people come to Russia and see the truth."
READ MORE:
Stanley Cup celebration 'erases' Russian player
#Putin #grants #citizenship #American #hockey #player #World #News