Combining alcohol and sport activities could lead to alcoholism, the psychologist claims
So-called 'beer yoga', which has been gaining popularity around the world, is not so much about sport as it is about creating conditions for the development of alcoholism, warns clinical psychologist Yulia Kochetova.
She said a passion for beer yoga may be indicative of early-stage alcohol addiction and people who feel attracted to the practice should think carefully before trying it.
"In this case, we observe a legitimate way of drinking alcohol," Kochetova told Moscow News Agency. "It is being associated with yoga, which is considered beneficial for the body. The ease and availability of use and encouragement from yoga trainers create a reason and conditions for the use of this drink."
The psychologist noted that such exercises could appear more attractive than their alcohol-free alternatives to some people, and could potentially trigger an addiction. 
Kochetova insisted that drinking and yoga should not be combined.
"After all, one of the main ideas of yoga is a pure consciousness and awareness. It is impossible to achieve this with the influence of psychoactive substances on the psyche," she explained.
The expert also recalled the negative side-effects of alcohol on the human body, stating that "beer is saturated with carbon dioxide" which quickly fills a person's blood vessels once it enters the body, leading to varicose veins and cardiomegaly.
"Also, beer, like any alcohol, affects the coordination of movements, balance, and overall brain function," Kochetova added, warning these effects could lead to injuries during yoga exercises.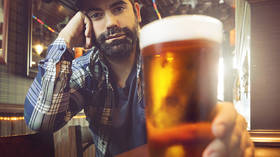 Beer yoga is a yoga hybrid popularized in the US around ten years ago in which participants are allowed to drink beer during exercises. The trend, which has since spread around the world, has been widely criticized by fitness experts, with some calling it a marketing gimmick while others have pointed out its unhealthy effects.
Some, however, have defended the practice. In a comment to the LA Times, beer yoga instructor Stephanie Serrano pointed out that the inclusion of a cold low-alcohol beverage during a session makes the exercise seem less intimidating to people who may have not have tried yoga before.
Behavioral neuroscientist J. Leigh Leasure also told the news outlet that while there were not any health benefits in combining beer and yoga, people who are having only one drink during a yoga session are unlikely to be hurting themselves.
You can share this story on social media:
#Russian #expert #warns #beer #yoga #dangers #World #News