At least seven people have died after torrential downpours triggered deadly flash floods and landslides in South Korea.
The country has been hit by heavy rainfall since 9 July, which has intensified in the past three days and is expected to continue in some regions until Sunday.
Thousands are being evacuated after a dam in North Chungcheong province came perilously close to overflowing on Saturday morning.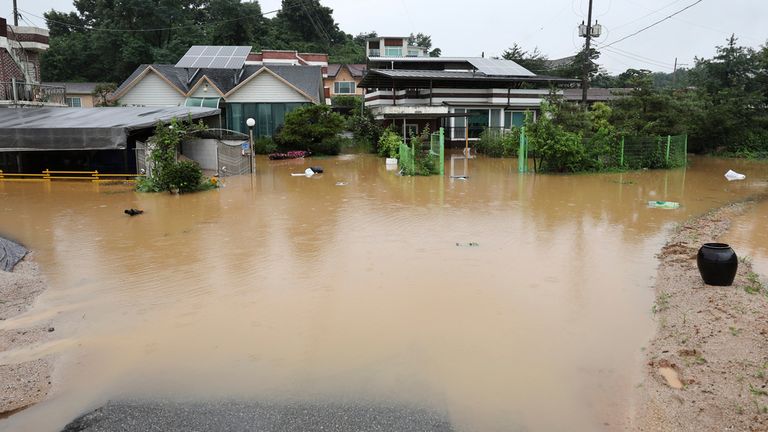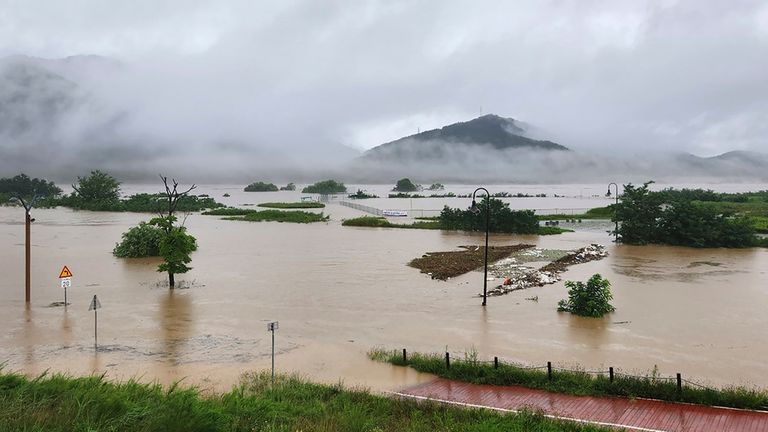 As of 9am local time, more than 2,700 tonnes of water was flowing into Goesan Dam – the maximum amount it can discharge.
Landslides claimed the lives of five people on Saturday, burying houses in two central towns, according to the Ministry of the Interior and Safety.
Two people died on Friday in a building collapse caused by landslides in the central city of Nonsan.
Another two people are missing while five were injured and eight trapped as a result of the deadly weather.
More than 1,500 people have been forced to flee their homes while thousands more have been deprived of electricity.
Read more:
Europe heatwave – latest: Tourists stretchered away and major attraction shut down
Why is Europe being hit by Cerberus heatwave and when will it end?
A train in the North Chungcheong province was derailed by a landslide, which hurled debris on the rail tracks, according to the transport ministry.
A train engineer was injured but there were no passengers on board during the incident on Thursday.
Train operator Korea Railroad Corp announced it was cancelling all slow trains and bullet trains, with some services delayed due to ongoing safety fears.
South Korea's Prime Minister, Han Duck-soo, has called on the military to assist in the rescue operation by working with government officials to mobilise equipment and manpower.
The incidents follow the death of at least eight people after record rainfall pounded the South Korean capital and surrounding areas in August last year, leaving 14 injured.
More than 100 homes were evacuated to temporary shelters to avoid floodwaters, as the downpours transformed the streets of Seoul's usually bustling Gangnam district into rivers.
More than 5.5 inches of rain fell per hour (14cm per hour) at one stage – the highest hourly downpour measured in the capital since 1942.
#South #Korea #dead #torrential #downpours #unleash #flooding #landslides #World #News