Russian FM Lavrov has said that deliveries of Western jets capable of carrying nuclear weapons pose a threat to Russia
European countries have yet to receive formal approval from Washington to train Ukrainian pilots to fly US-designed F-16 fighter jets, Politico reported on Friday, citing sources.
The 'international coalition' seeking to help Kiev procure F-16s and train Ukrainian pilots was first announced by the UK and the Netherlands in mid-May, with the US coming on board a few days later. A total of 11 countries have supported the initiative, with a training center expected to be set up in Romania.
However, the US State Department has not approved the request to transfer instruction manuals, flight simulators, and other materials required for training, Politico said, adding, however, that there is no indication that the US will not eventually greenlight the move.
Pentagon spokesman Garron Garn said the request "is still being reviewed."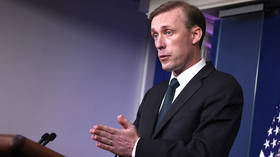 William LaPlante, the department's acquisition chief, told the outlet that the Pentagon has to "make sure we're ready to go with the technical manuals being translated and the tech data packages and a sustainment plan" before approving the transfer.
In recent months, Ukraine has repeatedly demanded that its Western backers send F-16 jets, saying they could play a key role in countering Russian air power. Earlier this week, Ukrainian Foreign Minister Dmitry Kuleba said Kiev could deploy the first F-16s by late March 2024.
Russian President Vladimir Putin has warned that if F-16s are sent to Ukraine, they "will burn" just like other Western hardware. Foreign Minister Sergey Lavrov has described the potential deliveries as an escalatory move, noting that the aircraft can carry nuclear weapons.
In early June, Politico reported that senior US officials believe that future support for Ukraine hinges on the success of its much-hyped counteroffensive, and should Kiev fail to deliver, the military assistance "will likely dry up." Later the same month, the Financial Times reported, citing sources, that Western officials are not impressed by the results of the counteroffensive.
The Russian Defense Ministry said the Ukrainian counteroffensive, which has been underway for more than a month, has failed to gain any ground. According to Defense Minister Sergey Shoigu, since the start of the push, Kiev has lost more than 26,000 soldiers and around 3,000 units of heavy military equipment.
Ukrainian officials, including President Vladimir Zelensky, attempted to shift the blame for the slow progress onto the West, citing delays in military aid.
You can share this story on social media:
#delaying #approval #F16 #training #Ukraine #Politico #World #News